Football Rankulator is the award winning software utility which allows you to create your own computer rankings of college Division 1A football teams. You can also keep an eye on the conference races, team schedules and strength of schedule, the polls, and the BCS standings. In the beginning we had the AP and Coaches polls. Then came the Bowl Championship Series (BCS). The BCS included the AP and Coaches polls, but added strength of schedule, quality wins, and a bunch of computer rankings to the mix. Computer rankings have been a big part of the BCS formula from the start. However, the details of their inner workings remain hidden, such as the criteria they use, the reason some teams go up after they lose and other teams go down after they win. If you want answers to these types of questions, well, you have come to the wrong place! We do not know either. But now there is Football Rankulator. With Football Rankulator (FBR) you can create your own computer rankings. From dozens of ranking methods, you decide what is important and what is not important. You decide how much weight to give a particular ranking method. If you do not like the results, change the criteria. Best of all, you know how it works because you are in control. There is also a unique strength of schedule calculation. You can actually see the break down of opponent schedules and opponent opponent schedules. And like the rankings, you can control how your version of the strength of schedule works. There is no data entry. The Division 1A and 1AA data are provided free of charge, i.e., schedules and scores plus the AP, Coaches, and BCS numbers. Datafiles are updated in a timely fashion and available for download so you do not have to enter a single score, and the software will even download the datafile for you. Of course, if you want to enter the scores yourself, you may. If you follow Division II or III football, the software will allow you to enter their schedules and scores.

Keywords: college football, rankulator, ranking software, football schedule, football polls, BCS, Bowl Championship, AP Poll, graph AP Poll, Coaches Poll, graph Coaches Poll, Harris Poll, graph BCS ranking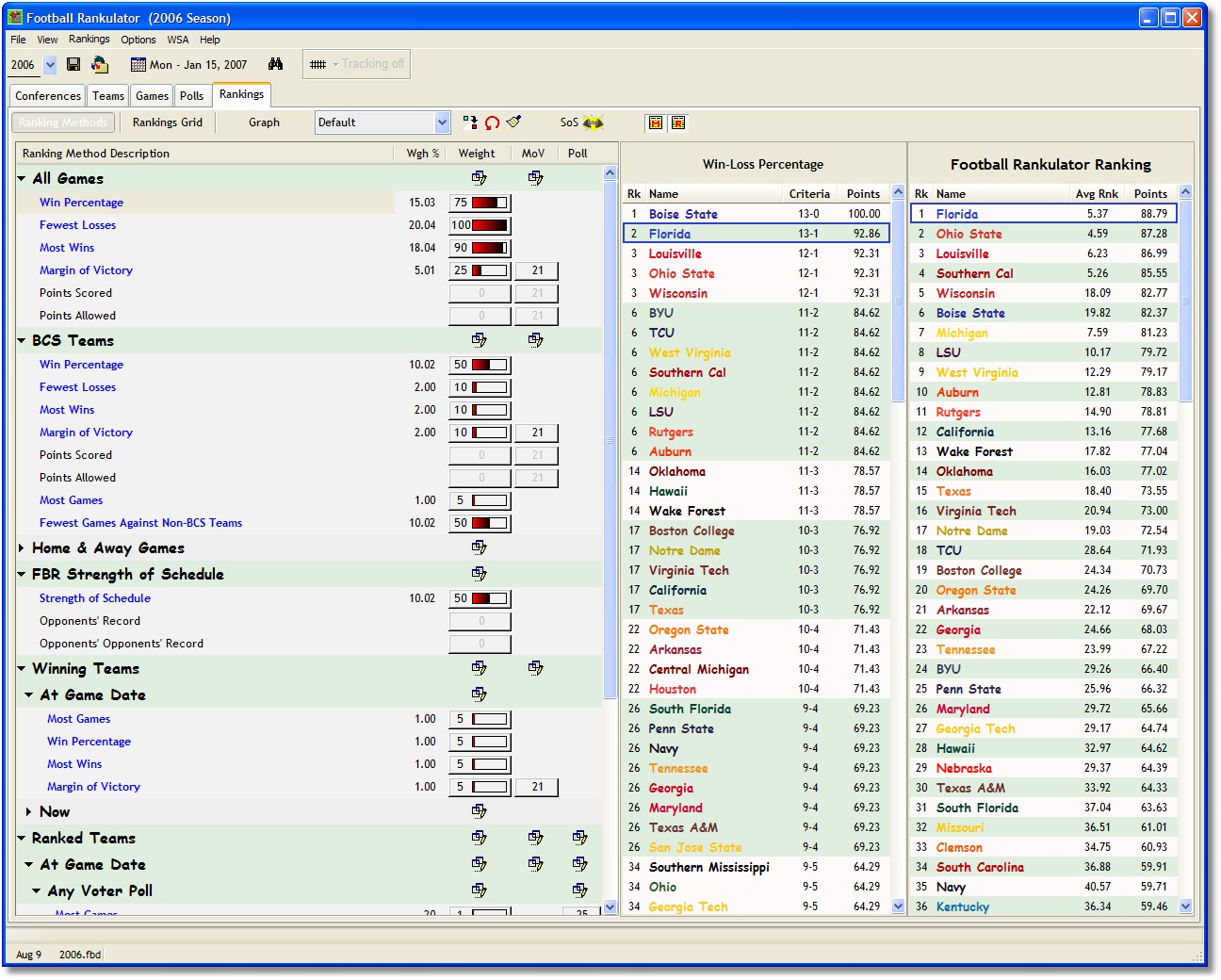 Related programs in Games & Entertainment - Sports
3D Live Pool
3D Live Pool is a comprehensive pool game with full 3d environment.
Football Rankulator
Create your own football computer rankings for Div 1A college football teams.
Pool 3D Training Edition
Billiard simulation game to learn and play billiard games with your friends.
Out of the Park Baseball [PC]
OOTP 16 is an award-winning baseball management simulation. Try the free demo!
Baseball Stat Manager
Easily manage stats for your baseball or softball team!
iSnooker
Online Snooker Game, 2D/3D Snooker, Prized Tournaments & Cash Events
Deluxe Ski Jump 3
Jump the furthest distance in this addictive 3D ski jumping game.
NFL Forecaster
Ranks NFL teams and predicts winners & spreads. Requires only scores.
Snooker Game
Snooker Game is a free multiplayer online game with lively 3D graphics.
3D Live Snooker
3D Live Snooker simulates snooker with full 3d environment and perfect 3d sound.