ESBProgCalc Pro is a Programmers Calculator that supports full precedence, large range of operations (and, or, xor, not, nand, nor, xnor, shl, shr, rol, ror, neg, mod, etc), Paper Trail, Clipboard Support, History of results, Integrated Help, Expression Editing, and much more.

The Calculator also has an expression editor that allows the data that has been entered can be then edited and recalculated.

Precedence can be turned off for those who do not wish it.

Optimized for Windows XP/Vista/7 in 800x600 (or better) and 32-bit colour. Support for Windows Vista.

Registered version also includes Electronic Documentation and PDF designed to produce Printed Documentation. Register only once for the life of the product. Also available as part of the ESBCalc Pro Suite.

Register only once for life of product.

Keywords: calculator, programmers calculator, calculator software, paper trail, hexadecimal, octal, binary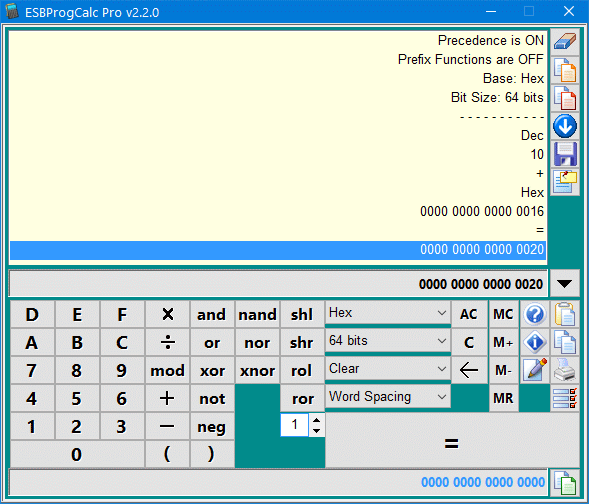 Related programs in Business - Calculators & Converters
Mihov ASCII Master
Show ASCII value of any key pressed in decimal or hex!
Euro Calculator
Calculator and currency converter with online exchange rate updates and skins.
Date Calculator
Calculate days between dates, date N days from date, etc.
Time Zone Calculator
Time Zone Calculator calculates time differences between world time zones
EditPad Pro
Convenient, powerful and versatile text editor to edit all kinds of text files
VEDIT
VEDIT Quickly Edits, Translates, Sorts, Text, Data, Binary Hex or EBCDIC
PG Calculator (Second Edition)
Multifunction scientific skinable Algebraic/RPN calculator for Windows
Dicom Unit Aware Calculator
An unit aware calculator enabling calculations, conversions and documentations
WinHex
Hex Editor, Disk Editor, and RAM Editor with a lot of features
Geozip
Geozip calculates distance between US zip codes or geographical coordinates