Send SMS or text messages to anyone, anywhere any time. Messages can be sent through a modem or the Internet. Communication is critical in todays competitive business world. NotePager Pro allows small businesses to compete in big business, by providing an affordable yet powerful text messaging, and SMS solution. NotePager Pro supports pre-programmed messages, scheduled messaging, on-call messaging, and group messaging, in a robust, yet easy to use desktop application.
When time is an issue, NotePager Pro is the answer. It allows for office personnel to contact remote staff in minutes. Text messages are quickly sent to to mobile phones and wireless devices.

Keywords: sms, software, messaging, text messaging, mobile, sms messaging, cellular, wireless, messaging, text messaging, wireless messaging, paging software, sms software, phone, communication, dispatch, communicate, send text message, send sms, text message,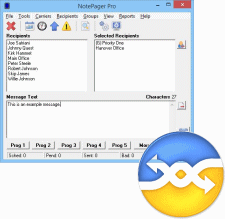 Related programs in Communications - Pager Tools
AudioTime Scheduled Audio Recorder Basic
Programmable Audio Recorder and Player (Pre-Scheduled Audio Recorder)
Geoitem
Support of the directory of basic geodetic points
WinMessenger
Easy to use & convenient WinPopup replacement that works in any Windows version
MegaUPS
Megatec compatible UPS minidriver for Windows 2000/XP/2003.
Server Maintenance Portal
Collect hardware and software assets across the network.
Fomine WinPopup
Fomine WinPopup is an instant-messaging tool for all versions of the Windows.
No-Keys
Onscreen computer keyboard. Type with a mouse.
Money Meter
Money Meter is the easy way to track the average employee expense, per second.
Power Email Harvester
Power Email Harvester can search bulk email address from mail server.
Air Messenger ASCII
Use standard text files to send text messages to pagers and cellular phones.