Advanced Maillist Verify (AMV) is a program that verifies the validity of e-mail addresses in databases, address books and mailing lists. Now that's not just a standalone program - it can be easily integrated into existing systems using open COM/ActiveX and CGI/ISAPI interfaces. The package includes detailed documentation and examples (for most major programming languages) for integrating Advanced Maillist Verify into Internet/Intranet servers based on Active Server Pages technology from Microsoft and ColdFusion from Allaire. The program works on the same algorithm as ISP mail systems do. Mail servers addresses for specified address are extracted from DNS. The program tries to connect with found SMTP-servers and simulates the sending of message. It does not come to the message sending - AMV disconnect as soon as mail server informs does this address exist or not. AMV can find about 90% of dead addresses - some mail systems receive all messages and only then see their addresses and if the address is dead send the message back with remark about it. Works with Socks5 proxy (to use in LAN). The program supports all popular file formats - from simple mailing lists to Eudora, The Bat! and Windows address books, and not just shows non-existing addresses, but also able to remove them from source lists and create "exclusion" lists. ODBC SQL support is there, allowing to work with DBMS like MS SQL, Oracle, MySQL, MS Access and others, and even with Microsoft Excel. Advanced Maillist Verify can save time and money for businesses who send newsletters to their clients, nonprofits who send bulletins to their members, or any person or business that needs to maintain a clean e-mail contact list.

Keywords: verify, email, address, mail, list, dead, verifing, validator, delivery error, verifying, valid, checker, mailing list manager, checking, address verification, e-verify, com, component, everify, mailverify, vrfy, wab, email verifier, validation, amv, address correction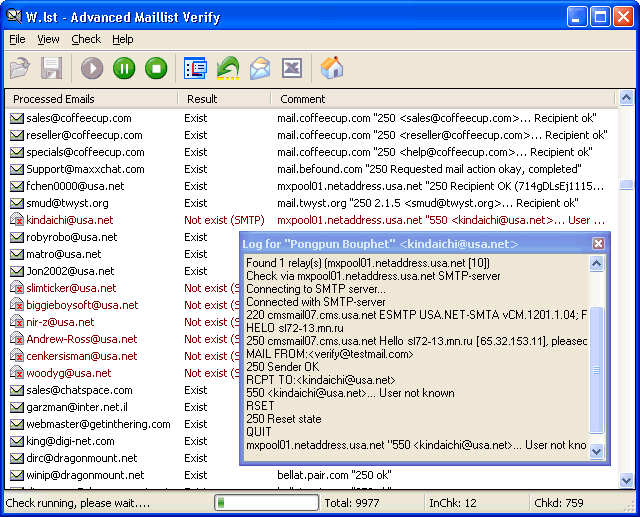 Related programs in Communications - E-Mail List Management
Free Hide IP
Hide your real IP address to protect your privacy for FREE with Free Hide IP.
Auction Messenger
Auction Messenger for eBay
Mihov Index Maker
A program that creates a HTML file containing links to all files in the folder.
SnugServer
Email Server plus FTP, Web, News & List Server with Anti-Spam/Virus & Encryption
Easy Directory
Very easy to use personal address manager
ManageEngine Exchange Reporter Plus
Web-based Microsoft Exchange Server Reporting and Email Traffic Tracking Tool.
DataTron
DataTron is an easy-to-use visual data base
Power Email Harvester
Power Email Harvester can search bulk email address from mail server.
Link Web Extractor
Extracts from Search Engines or a list of URLs, E-mails, Phones, Fax and more...
Desktop Task List
Perform the most straightforward task organization possible.