Android Newsgroup Downloader is an advanced multithreaded newsgroup downloader and newsreader program for alt.binaries newsgroups. It is designed especially for handling large files such as movies, music, applications, and archives. It's also good for downloading pictures and other small attachments. Android uses a queue-oriented design. You drag and drop the files you want into the queue (or "to-do list") and Android will download them for you automatically. Android downloads any type of file from a newsgroup, including vob, mpeg, mpg, avi, mp3, wav, jpg, jpeg, gif, bmp, pcx, rar, par, exe, and more! Supports all popular encoding methods, including uudecode, yEnc, mime, and base64. Android is has many user-friendly features, including a built in queue manager that saves your "to-do" list from session to session, and a built in history that will keep track of what you have downloaded. Android also includes built in message and file posting capability, making Android a complete solution for not only downloading from newsgroups, but posting to newsgroups as well. Built in NZB file support allows you to import .NZB files directly into the software. Multi-newsgroup search lets you search all subscribed groups simultaneously, in case you don't know which particular group has the files that you want. Includes support for encrypted usenet services using SSL. Shareware version is fully functional with no time limits, expiration, or disabled features. Contains NO spyware and NO adware. Supports Windows 95/98/NT/ME/2000/XP/Vista.

Keywords: newsgroup, alt.binaries, binary newsgroups, picture downloader, newsgroup, newsreader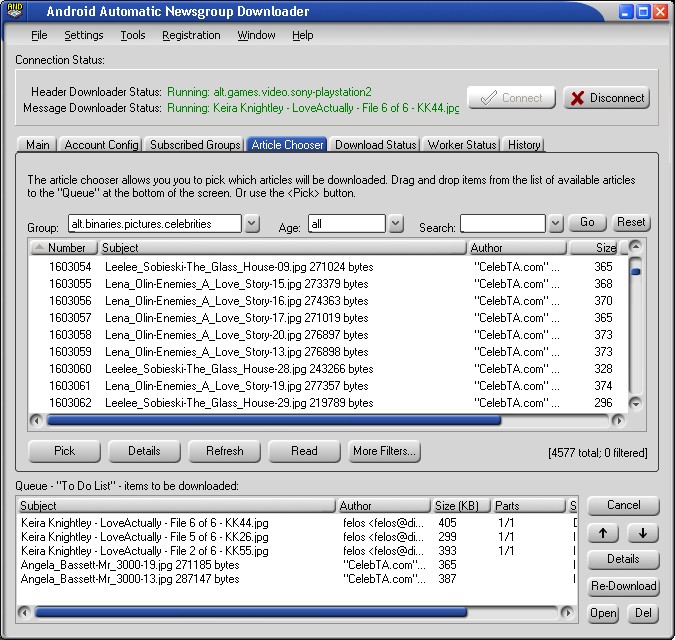 Related programs in Communications - Newsgroup Clients
PicBand Image Downloader
Download image/picture from gallery/forum, also download images from other web
Masker
Hides email addresses from spammers as PNG image files.
iMiser Research Assistant
Add Permanence to the Web! Save and organize Web pages, email, images, and text
Binary Boy
A newsreader with NZB and RAR support. Custom settings for each newsgroup
Web Photo Search
Quickly search and download pictures from the Internet.
Mihov Picture Downloader
The program downloads all the pictures from a web site instantly!
Picture Patrol XP
Automatically extract pictures from thousands of Usenet newsgroups articles
Free Picture Finder
Picture finder, image downloader, pic grabb: search and download images on web
Newsgroup Commander
News reader program which simplifies searches in RSS and Usenet archives.
Hide My IP
Conceal your online identity by hiding your IP address on websites and programs.