AutoRun Pro Enterprise is a complete rapid application development (RAD) tool to create interactive multimedia applications for Windows - without programming. You don't have to be a programmer, but with AutoRun Pro Enterprise you'll feel like one. Even though it is very easy to learn and use, it has everything you need to develop professional software applications!

Would you like to distribute your product or company presentation, electronic documentation or e-product(s) on a removable storage device such as a CD, DVD or USB stick? You can create autorun CD menu now and publish your presentations, documents, files and software,? on portable media such as CDs, DVDs and USB sticks. Using AutoRun Pro Enterprise you can create an attractive and professional CD menu for your CD or DVD and a front-end menu for your USB stick (USB flash drive).

Keywords: autorun, autorun cd, cd menu, autorun cd menu, autoplay, autoplay cd, autoplay cd menu, autorun software, autostart cd, autorun creator, cd rom presentation, cd menu creator, make autorun cd, create autorun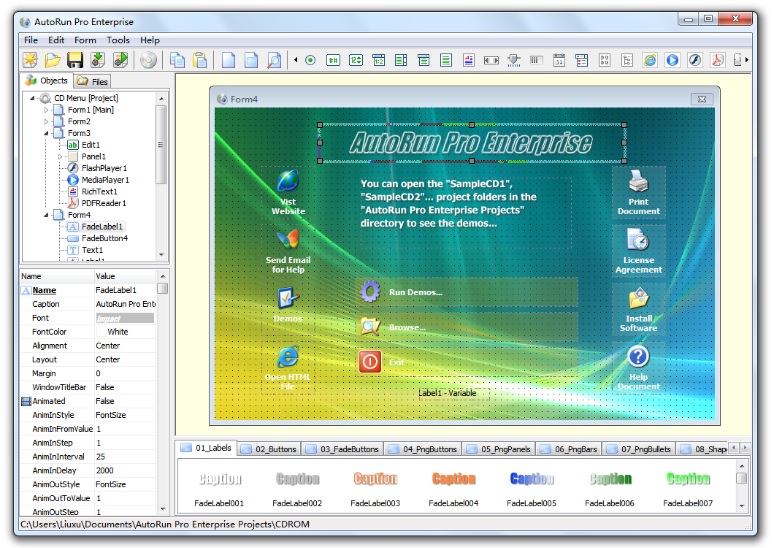 Related programs in Audio & Multimedia - Presentation Tools
AutoRun Wizard
Utility for quickly and easily creating a professional CD-ROM auto launch.
AutoPlay me for Word
Create AutoPlay Word CDs easily. Simply drag and drop and press Burn to CD
AutoPlay me for PDF
Create AutoPlay PDF CDs easily. Simply drag and drop and press Burn to CD
AutoPlay me for Power Point
Create AutoRun PowerPoint CDs easily. Simply drag and drop and press Burn to CD
AutoRun Architect
Quickly & easily make professional and impressive AutoRun Menus for your CD/DVDs
Autorun CD menu tools - AutoRun Pro
Autorun CD menu tools for creating autorun CD menu for CD, DVD and USB stick.
Cd Autoplay Gen
Create your own stunning menu/ program driven autorun CD with many features.
VCD Menu Lite
VCD / SVCD /DVD menu generation program with movie frame thumbnails
Easy HTML Autorun Builder
Application Pack for easy creation of HTML-based CD/DVD autorun menu.
ShellRun
ShellRun will AutoPlay a web page or document on your Windows CD/DVD/USB-stick