Cloudeight Email Backup Guardian for Outlook Express backs up all your important Email Settings, Messages, Account Settings, Signatures, Message Rules and Blocked Senders. Backs up other important Windows files such as Address Book, Stationery and Dialup Settings. Backs up important Internet Explorer browser settings, including Favorites, URL History, Cookies, and Offline Web Pages. Easily transfer email and settings from one computer to another.A virus, power outage or a system crash can wipe out, corrupt or destroy your email messages, settings and other information without warning! By keeping regular backups, you are always prepared!

Email Backup Guardian remains on guard making sure your important mail and settings information are automatically backed up at any interval you choose. Set it up and forget it! Or choose the fast manual or Quick Backup. Cloudeight Email Backup Guardian will make sure you never lose your important email messages or settings again. Planning a format? You will be able to restore all your email messages, stationery, Address book and other settings afterwards!

Fast & Easy to Use! Even beginners will be able to create accurate backups without ever reading the help files. You'll never lose your email or Favorites again! If you ever have a computer problem and lose all your data, or simply want to migrate your email and other settings to another computer, you can restore or transfer your Outlook Express and Internet Explorer data and settings in less than 5 minutes! Just open Email Guardian and click "Restore". It's just that simple.

Backing up and restoring your email accounts, settings, messages, rules, blocked senders list, stationery, address book, Internet Explorer Favorites, settings, and more is as easy as clicking a button. Think of Cloudeight Email Backup Guardian as insurance for your email!

Keywords: Email backup, E-mail backup, Outlook Express, restore, email stationery messages backup, backup, wizard, email, accounts, rules, signatures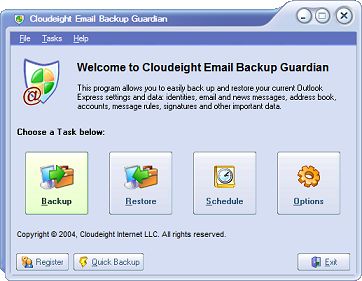 Related programs in System Utilities - Backup & Restore
RAID Reconstructor
Recover Data From A Broken RAID Level 5 or 0 Array
Montage
work faster & easier by visually organizing applications, files, and web links
MailRecovery Server
MailRecovery Server provides data recovery solution for email applications
Recovery for Calc
Recovery for Calc is data recovery software for OpenOffice spreadsheets 9 (.ods)
Registrar Registry Manager
complete registry management solution for power users and administrators
Express Assist
Outlook Express & Windows Live Mail - Backup, Restore and Synchronize Utility
Unerase Digital Photos
Digital pictures retrieval tool recover accidentally deleted photos, snapshots
MediaHeal for Hard Drives
MediaHeal for Hard Drives retrieves files from corrupted hard disks.
Recovery for Writer
Recovery for Writer is data recovery software for OpenOffice documents (.odt)
MediaHeal for CD and DVD
MediaHeal for CD and DVD retrieves files from corrupted cd/dvd disks.