Keylogger Spy Monitor spy software can secretly record all keystrokes typed on your computer. It runs in a complete invisible mode. You can check logging reports by simply receiving emails or opening a web page. Perfect for catching cheaters, monitoring employees, children or spouse, acquiring others' passwords and even investigating crimes. You can download Keylogger Spy Monitor and take a trial before order to make sure it works for you. It logs both alpha-alphanumerical keys (like A-Z, a-z, 0-9, !...=) and special keys (like F1-F12, Shift, Ctrl, Enter...). You can show all records in Keylogger Spy Monitor directly, export these records to HTML files in a directory for later analysis, or send a report to a pre-set email / ftp address. Everything will be recorded without being detected. It is especially useful for administrators or parents, who need to know what their employees or kids are care and doing on their computers. Use your hotkey to unhide it from complete Stealth Mode and protect the program access by password. Uninstall it easily from the program interface. If you have quesitons about setup email report function, please read report delivery instructions. You can download Keylogger Spy Monitor and take a trial before order to make sure it works for you.

Keywords: Keylogger spy software, spy software, keystrokes, keylogger, Keylogger Spy Monitor, spy, monitor, password, username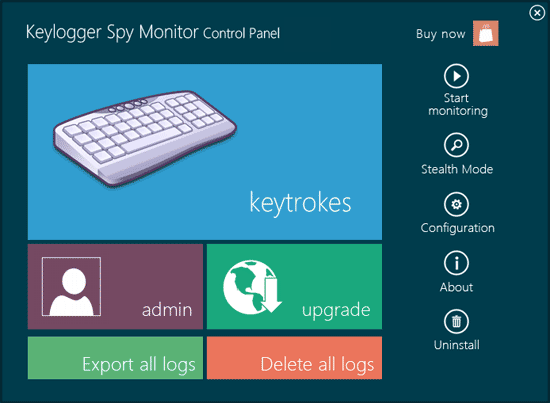 Related programs in Security & Privacy - Covert Surveillance
ReplaceKeys
The ReplaceKeys prank replaces key presses with other keyboard keys.
Spytector
Spytector - the most undetectable keylogger on the market! Windows 10 Compatible
HomeGuard Professional
Monitor and control every aspect of network computers use.
MING Keylogger
Record all computer activities in stealth mode
Keylogger Lite
Keylogger Lite keyboard spy for parental control & information security
a-keylogger
Keylogging software logs and monitors all activity on your computer
ICQ Spy Monitor 2011
Spy employees, children and spouse chatting on ICQ.
SpyPal Spy Software 2013
Secretly logs keystrokes, Facebook, chats, emails and sends logs to your email.
PC Spy Monitor 2012
Secretly monitors Facebook, chats, emails, keystrokes and reports to your email.
Net Monitor for Employees Professional
Use this spy software to perform employee monitoring or classroom management