There are many different ways to get icons for your application. One of them is to design those icons yourself using one of the widely available icon-editing programs. But that could be a hard task, if your drawing skills are low or not present at all. The other way is to use a search engine and get the icons free of charge from someone, who does have some drawing skill and therefore, managed to create the icons and put them on the net. There is only one problem with those icons - their quality. You can usually see rough edges, inconsistent color and blurry look in smaller sizes. That does not apply to the images, created by professional designers. However, professionally designed icons are not usually offered free of charge. Not usually, does not mean not at all. And here is an exception.

Developing a software is a serious task. It requires some thought, skill, and, of course, a bright set of icons to be used for buttons, toolbars etc. And that's the part we can help you with. Download our 16x16 Free Application Icons set and see it improve your work instantly.

Icon images are provided in 16x16 pixel size only. There are two color schemes available, 256 and 32-bit color. The file formats are PNG, BMP, GIF and ICO. It is available for instant free download.

Aha-Soft designs a lot of icon sets and develops software for icon editing and toolbar design also. It plans to release the following icon sets: Online Icon Pack, Large Funny Icons, Free Cute Icons, Desktop Computer Icons, Large Software Icons, Vienna Desktop Icons, Android Toolbar Icons, Phone Toolbar Icons, Small Buddy Icons, Perfect Online Icons.

Visit pressreleasediva.com to find the largest article submission directory.

Keywords: icon, icons, icon set, development, application, windows, windows icons, free, interface, 16x16, 16 x 16, toolbar, toolbars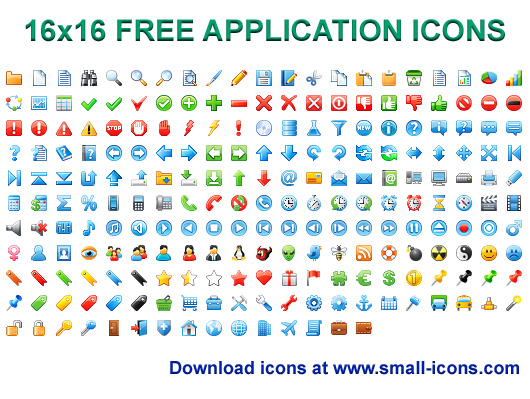 Related programs in Desktop - Icons
WDumpEvt
Windows NT/2000 eventlog management tool: dump, save, view the local/remote log
Geoitem
Support of the directory of basic geodetic points
Excel Convert Files From English To Swedish and Sw
Convert MS Excel files from English to Swedish and vice versa.
Berokyo for Windows
Berokyo is a desktop organizer and quick launcher application.
DoneEx AppBinder DLL
This DLL allows you to redirect DOS or Win32 console standard streams data
DoneEx AppBinder ActiveX
Redirect DOS or Win32 console standard streams from your Windows application
SOCKShell
Adds pre-defined and your own options to the Windows Explorer context menu.
DbFacePHP
MySQL web interface, PHP application builder and sql reporting tool.
Computer Security
Keep your computer's content protected! Hide or shred files, lock applications.
3D Aqua Icons Collection
Over 175 royalty-free stock icons for sites and applications. All sizes!