A-PDF Password Security is a desktop utility program that lets you change password security of existing Acrobat PDF files. That means you can protect PDF files with 128 bit encryption or remove the password protection. It can handle either single or batch documents. Another convenient features include password pool and hot directory.

With A-PDF Password Security, you can set a PDF file if need a password to open, and/or if have access restrictions. For example, allow or not allow printing, copying content or changing file etc. You can modify metadata at the same time, includes author, title, subject and keywords. A-PDF Password Security even support disable/enable expiry function.

A-PDF Password Security works with unencrypted or encrypted PDF files and does NOT require Adobe Acrobat.

Password Pool: If you need unsecure a batch of PDF files with one password, you can special a password pool. A-PDF Password Security will try the passwords one by one, instead of input them manually.

Hot Directories: You can set up a monitored directory, where all files written to that directory will be encrypted as they are saved. The original files can also be moved to a backup directory. All of the operations will be recorded in log files.

Keywords: pdf, security, password, batch, hot direcotry, remover, secure, adobe, acrobat, remove, encryption, protected, protection, document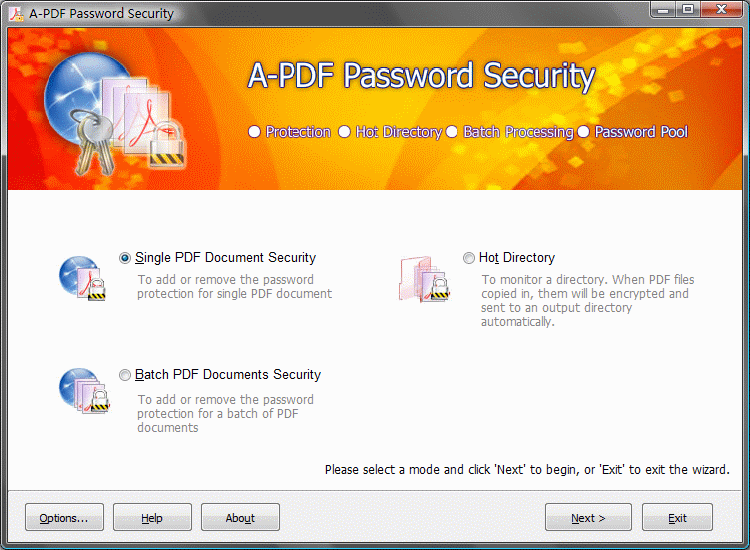 Related programs in Business - Office Suites & Tools
WDumpEvt
Windows NT/2000 eventlog management tool: dump, save, view the local/remote log
Program Selector Pro 98/ME
Provides password protected access control for your Win 95/98/ME computer
Pdf2Txt
PDF TO TEXT Converter, supports batch conversion and command line
Mihov Gallery Creator
Create and upload image galleries with thumbnails!
Word to PDF
Convert word doc/docx, html, rtf, text to PDF, PNG, JPG, TIFF, BMP
Keep It (a) Secret!
Keep your passwords, userids, etc. secure, in just one place.
Server Maintenance Portal
Collect hardware and software assets across the network.
PELock
PELock - exe-protector and advanced license key system
Tweak Manager
Take complete control of your Windows system with access to hundreds of tweaks.
SynchroPass
Windows Network Passwords Synchronizer