FastSum is an extremely fast utility for your files integrity control. The high accuracy and speed attains through the usage of a well-known and time-proved cryptographic algorithm, as a matter of fact FastSum is a Windows MD5 Checker. You do not have to be afraid of these unintelligible words, all you have to know is ? how to run FastSum.
You can rectify the errors occurring while data transfer. For example: Network transfers, CD-R and DVD burning, software errors and much more. FastSum calculates short and strong digests of your data via MD5 algorithm to use it as references checksums for ulterior data integrity verification.
FastSum is developed for easy processing of a huge files count and has usable command-line interface. To make the work easier FastSum MD5 utility for Windows provides special filters, which allow selecting only specific file types. It is an analogue of a famous md5sum software for Unix platform, it is convenient and powerful.
FastSum is also a reliable way to check the changes within your data. It allows you to build a list of altered files for review while demonstrating incredible speed of processing. Besides, this software is Unicode, so there will not be any problems working with files named in different languages.

Keywords: fastsum, fast, algorithm, md5, md5sum, checksum, utility, files, file, windows, software, crc, free, verification, calculate, download, check, cd-rw, error, calculation, verify, dvd, unix, command, line, fsum, compare, sfv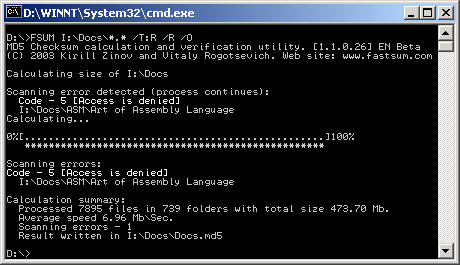 Related programs in Security & Privacy - Other
CacheBoost Server Edition
Boost performance with system and cache management of Windows.
CacheBoost Professional Edition
Boost system performance and cache-management of Windows XP, NT, 2000.
ActiveX Easy Compression Library
Fast compression and high-ratio compression toolkit with strong encryption.
Frequency Analyzer
Splits inputted sound into basic frequencies and displays in real-time window
Optimum XP
Easily accelerate, secure, customize and tweak XP with powerful hidden settings.
NetworkActiv Port Scanner
Quality network tools, DNS-dig, whois, OS fingerprinting, and more...
EF CheckSum Manager
File checksum utility for the SFV, MD5 and SHAx formats
DMT SQL Backup Manager
Compress, encrypt and monitor SQL Server backups.
Advanced Hash Calculator
Feature full hash calculator, supports crc32, GOST, MD2, MD4, MD5, SHA1 and SHA2
Auto Hide IP
Hide your real IP to protect your privacy automatically on the Internet.