Gain the total control over the windows on your desktop. Now you do not have to minimize window by window when working with numerous tasks. Punch a hole through all windows to see what is going on down there! Let off your steam - tear your windows to pieces, make a shaped holes, do anything you want. Agent Undercover will allow you to cut a hole of any shape and depth. And what is important: all your task windows with holes applied remain fully operational - you can continue work in top window and watch the content of layer below at the same time. The holes do not disappear when you moving, resizing or minimizing your windows; all the effects of Agent Undercover are removed only by your direct order, or when the window is closed completely. Try it for yourself - install Agent Undercover and enjoy this fun and easy software.

Keywords: window, windows, hole, holes, task, tasks, agent, undercover, Cresotech, desktop, utility, fun, easy, enjoy, hide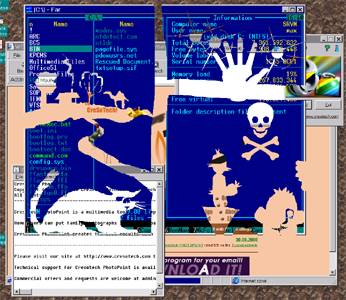 Related programs in Desktop - Other
WDumpEvt
Windows NT/2000 eventlog management tool: dump, save, view the local/remote log
Mihov ASCII Master
Show ASCII value of any key pressed in decimal or hex!
XSLaunch
XSLaunch is a simple but a most efficient Windows Explorer add-on.
Zoner GIF Animator
Superb GIF animator that can create banners
Server Maintenance Portal
Collect hardware and software assets across the network.
Tweak Manager
Take complete control of your Windows system with access to hundreds of tweaks.
sysCOMP
Remotely compare any two systems on your network.
CgiTester
A tool for full testing of CGI scripts without needing an internet connection.
COMM-DRV/Lib Standard Edition
Professional serial communication library - DLLs for Windows & MSDOS Libraries
Flash Screensaver Maker
Package flash movies in one Screen saver. Movies be played at one time or one by