Cresotech HOTPANCAKE is a software package that allows you to create, store and replay multimedia collections. Do you need to make a virtual storybook of your family? To collect professional presentations? To convert scattered files into an organized database? It is easy! Cresotech Hotpancake helps to put in order any data stored in your computer. Music, video, graphical images, or texts ? just create convenient shortcuts for them, grouping by folders and arranging in hierarchical structures ? collections ? and now you are able to find exactly what you need in no time at all! The advantages of Cresotech Hotpancake are most conspicuous when you deal with musical collections. Once your musical information is saved, you can play any custom set of music files with a single click. Using Random Play and Continuous Play options, you can enjoy your favorite songs and music hours after hours. Generally, collections of almost unlimited variety can be created. Arrange your family collection. Record a narrative on every family event and supply it with illustrations ? snapshots and notes. Impress all your relatives with this collection!

Keywords: collection, collections, image, picture, photo, MP3, music, audio, Hotpancake, Cresotech, show, slide, presentation, catalogue, cataloging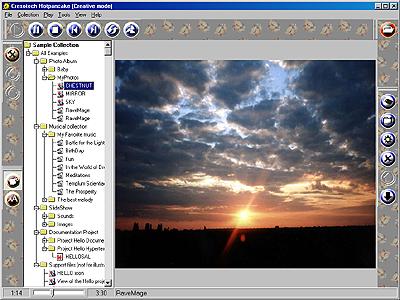 Related programs in Graphic Apps - Gallery & Cataloging Tools
Cresotech PhotoPoint
Multimedia tool to create a photo presentation just in seconds.
Cresotech Hotpancake (Player)
Tool that allows you to replay multimedia collections.
Mihov Gallery Creator
Create and upload image galleries with thumbnails!
Web Site Robot
Easy to use web site builder with blog, shopping cart, online photo album
ImageXYZ
ImageXYZ v1.0.1 is a utility to watermark your copyrighted images.
ImageGrabDummy!
Download and view mass images from the web by keyword or url.
DataTron
DataTron is an easy-to-use visual data base
ASCII Animator
convert GIF image to animated ASCII art
Image Viewer
View and resize digital images quickly and easily or view a slide show
AD Picture Index
AD Picture Index is the digital image and photo cataloguing and management tool.