Logbook Pro is the leading electronic pilot flight logbook software of the 21st Century. Logbook Pro is without a doubt the best pilot logbook software on the market bar none. Endorsed by Sporty's Pilot Shop as the "Finest Electronic Logbook Around" and sold as their exclusive PC flight log. Logbook Pro is the number one choice among pilots trusted for their flight log needs. Download a free trial or purchase a license for unrestricted use instantly online. Logbook Pro is designed not to be restricted to just FAA/FAR but to be a globally usable pilot logbook software for any pilot such as those flying under JAA or CAA regulations.

Logbook Pro is the most reliable, secure, and advanced pilot logbook application sold for over 13 years! Logbook Pro's flight logbook software is customizable allowing you to add custom columns, rearrange columns, and track any data you need. Now available for your iPhone, iPad, iPod touch, and Android devices.

Data analysis is unmatched! It's one thing to have a software flight log but if you can't analyze or report on your data, it's no use. No other product has a system such as Logbook Pro's Analyzer allowing you to get data in any way you could possibly need. Get flight times by aircraft type or even down to the aircraft tail number. Get complex time summaries such as cross-country time at night using the Analyzer's master filter or any of the available drop down filters across the top of the screen. View your time in totals or percentages.

Logbook Pro is first class when it comes to creating reports with over 60 report templates available and a custom system for creating your own layouts. Reports are predefined for our vast binder support in our custom Cirrus Elite binder offering. Print information such as aircraft specifics down to category, class, engine type, etc. Get a unique Percentages report showing both totals and percentages, or time summaries.

Keywords: Logbook, Logbook Pro, iPhone, iPad, Android, Pocket PC, Fly, Flight, Aviation, Pilot, Log, Landing, Takeoff, Airplane, Helicopter, Glider, Private Pilot, Pilot Logbook, FAA, FAR, JAA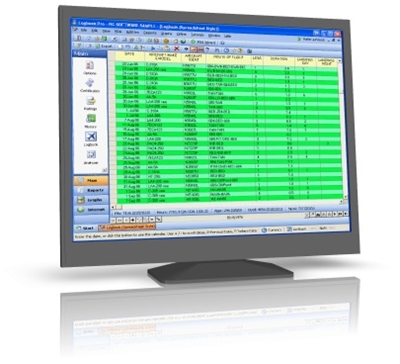 Related programs in Business - PIMS & Calendars
iAny Transfer
iPhone/iPad/iPod data manager software for iOS transfer, backup, restore
Android SMS Software
Compose and send interview announcement text messages using android SMS software
Avapose Android Barcode
Avapose Android Barcode Generator for Code39, Code128, Data Matrix
IconEdit2
Create and edit icon files with professional yet easy-to-use Icon Editor.
Mezzmo
The ultimate media server for streaming movies, music and photos to your devices
Bigasoft AVCHD Converter
Convert AVCHD to HD and SD video like MP4, AVI, MKV, MOV, WMV, HD MP4, etc.
eBooksWriter LITE
All in one ebook software: visual editor, create, pack and protect the ebook
eTeSoft Video Converter
Powerful and easy to use video converter supports all popular video formats.
Free Large Android Icons
Free Large Android Icons picture robots, crawlers and androids.
TeeChart for Java
Java Charting Library with sourcecode for Swing, SWT, Android