Create flowers and geometrical patterns in 3D. Watch them grow or unfold. A swirling pattern of stars suddenly coalesces into a geodesic sphere with all the points gracefully touching. Navigate a forest of rustling leaves, or visit an island with exotic flowers.

The trees generated by Virtual flower are created using fractals, paralleling the way that trees are structured in nature. A few simple shapes are used for the branches, leaves and flowers, and these are re-used to make larger and larger structures.

Most 3D models of trees in 3D scenes are just a "billboard" type flat texture that turns around to follow the viewer. That's because true 3D trees are normally so much larger in terms of file size.

With Virtual Flower though you can make intricate truly 3D trees and flowers, which are small in file size, when included in VRML scenes. Even a whole forest of trees, animated with the leaves rustling, is still just a few KB in size.

You can also export the animations as animated gifs, flash animated jpegs, or flash movies. You can also export all the animation frames in many image formats such as pngs, jpegs, gifs or bitmaps.

You can also make anaglyph flowers which spring into 3D when you view them using red/ blue anaglyph specs. You can even make coloured anaglyphs - which you see in 3D, with some variation in colour, when viewed using normal anaglyph viewing specs.

You can also make stereoscopic images. This format lets you see the shape in 3D in full colour.

You can also use its wizards to explore a huge variety of polyhedra and geometrical shapes, including shapes in 4D and higher - the hypercube of course, tesseracts, simplexes, the spectacular 120 cell in 4D with 120 dodecahdral faces and many more.

Comes with a scene that shows each of your virtual flowers at random. You can install this as a screen saver using the Cortona Screen Saver, accompanied by a random music clip from the companion program Fractal Tune Smithy.

Keywords: fractal, tree, flower, virtual flower, VRML, graphics, anaglyph, stereoscopic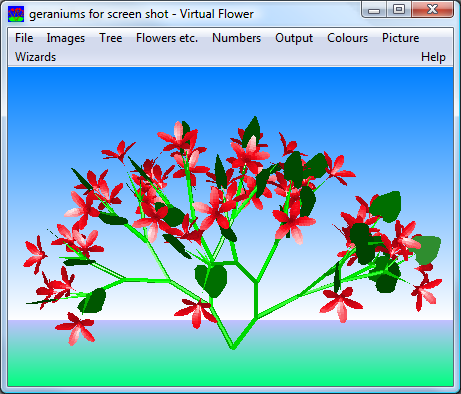 Related programs in Graphic Apps - Animation Tools
Flowers Meadow 3D Screensaver
Amazing flowers meadow 3d screensaver helps you to enjoy nature scenes.
HashTrie
High efficient dynamic hash table with tree organization
WPF Diagrams
Build interactive diagrams and model surfaces in WPF applications
Christian ePhotos Screensaver2
Free Slide show of various pictures with nice related bible verses.
3D Camomile Field Screensaver
A beautiful scene of a camomile field with bumblebees and butterflyes
TreeDraw
Creates family tree charts by importing data from Kith and Kin Pro V3 or GEDCOM.
Folder Scout Standard
Folder Scout gives you instant access to any Drive, Folder or File on your PC.
Scratchboard
A tool for organizing personal information in a 'tree' strucutre.
Meditation Screensaver
Animated screensaver for desktop decoration and relaxation in rest time.
Easy Notes
Edit files, manage notes, keep track of tasks and use calendar in intuitive way.