SPAMfighter Mail Gateway, is the easy-to-use anti-spam solution for Microsoft Windows Servers. SPAMfighter Mail Gateway is powered by the SPAMfighter Server, which is updated by the SPAMfighter community of millions of users across the globe. SPAMfighter Mail Gateway delivers instant spam protection with no configuration or maintenance what so ever. As an email arrives and the Anti Spam Server routes it to its addressees, SPAMfighter constructs a unique signature for each message and sends it to the SPAMfighter Server for evaluation. If the SPAMfighter Server determines that a message to be spam, it is filtered before ever reaching the users inbox, and is instead moved to the user's spam folder.

Keywords: Microsoft, smtp, anti, server, spam, antispam, Filter, mail, junk, spambuster, blocking, junkmail, spam filter, anti, spamkiller, download, downloads, blocker, gate, gateway, way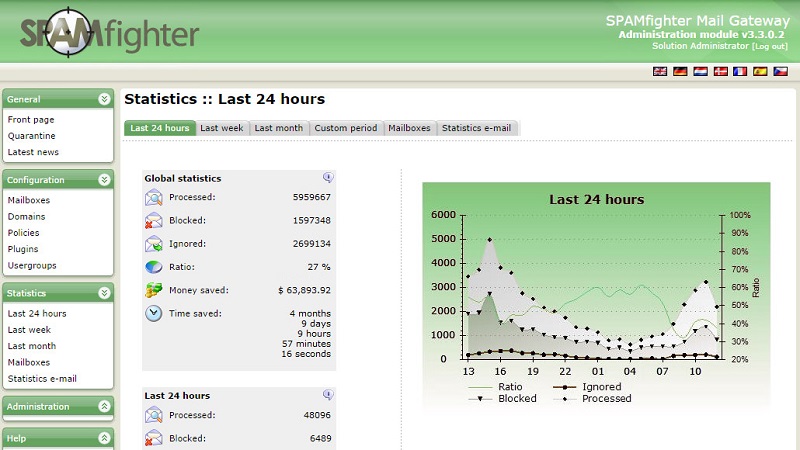 Related programs in Security & Privacy - Anti-Spam & Anti-Spy Tools
Free Hide IP
Hide your real IP address to protect your privacy for FREE with Free Hide IP.
Server Maintenance Portal
Collect hardware and software assets across the network.
Web Site Robot
Easy to use web site builder with blog, shopping cart, online photo album
SnugServer
Email Server plus FTP, Web, News & List Server with Anti-Spam/Virus & Encryption
ManageEngine Exchange Reporter Plus
Web-based Microsoft Exchange Server Reporting and Email Traffic Tracking Tool.
WinXfer
Transfers files between computers directly connected serially or by modem.
Database Assistant
Manipulate data from a variety of databases including Oracle, SQL Server, et al
Civil War Quotes, Notes, and Facts
Quotes, notes, and facts of the Civil War. Text-To-Speech, this software talks.
HomeFTP
FTP server that is easy to use
SysRose Syslog Desktop
Syslog Desktop is a syslog collector designed as Windows desktop application.