AutoRun Pro is a powerful visual tool to create attractive and professional autorun menu for your CD, DVD and USB sticks in a WYSIWYG environment. AutoRun Pro is easy to learn, with demos and wizards you can get started in just minutes! AutoRun Pro features a completely visual drag and drop environment. Simply add content such as photos, videos, music and text to your forms and position them using your mouse. We've even included lots of extra content like backgrounds, panels, buttons, sound effects and more to get you started. From opening documents, to running programs, viewing websites and sending email, it couldn't be easier! One of the features which makes AutoRun Pro so quick and easy to work with is the included library of ready-to-use form templates and object templates. To apply a template simply select it in the template list, AutoRun Pro will do the rest. All you have to do is substitute your content for the placeholder content and publish. AutoRun Pro templates guarantee professional autorun CDs for anyone, in just a few clicks! Whether you prefer to distribute your projects via CD-ROM, USB stick, the internet, AutoRun Pro makes it a breeze with the handy Publishing Wizard. With just a few clicks you can generate all the files you need to get the job done quickly and correctly. AutoRun Pro can even directly burn your autorun CDs or create ISO CD image files without any need for external CD burning software.

Keywords: autorun, autorun cd, cd menu, autorun cd menu, autoplay, autoplay cd, autoplay cd menu, auto run, autorun software, autostart cd, auto run cd, autorun creator, cd menu creator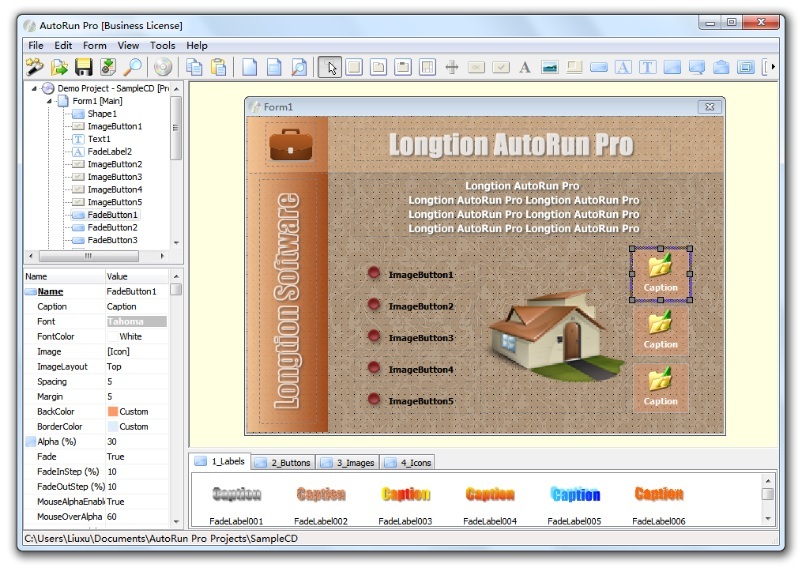 Related programs in Audio & Multimedia - Multimedia Creation Tools
AutoRun Wizard
Utility for quickly and easily creating a professional CD-ROM auto launch.
AutoPlay me for Word
Create AutoPlay Word CDs easily. Simply drag and drop and press Burn to CD
AutoPlay me for PDF
Create AutoPlay PDF CDs easily. Simply drag and drop and press Burn to CD
AutoPlay me for Power Point
Create AutoRun PowerPoint CDs easily. Simply drag and drop and press Burn to CD
AutoRun Architect
Quickly & easily make professional and impressive AutoRun Menus for your CD/DVDs
Autorun CD menu tools - AutoRun Pro
Autorun CD menu tools for creating autorun CD menu for CD, DVD and USB stick.
Cd Autoplay Gen
Create your own stunning menu/ program driven autorun CD with many features.
VCD Menu Lite
VCD / SVCD /DVD menu generation program with movie frame thumbnails
Easy HTML Autorun Builder
Application Pack for easy creation of HTML-based CD/DVD autorun menu.
ShellRun
ShellRun will AutoPlay a web page or document on your Windows CD/DVD/USB-stick