Zortam Mp3 Media Studio is all-in-one Mp3 application suite. It has several modules such us Zortam Mp3 Auto Tagger, Mp3 Organizer, ID3 Tag Editor, Mp3 Player, Mp3 Normalizer, CD Ripper, Mp3 to Wav converter. With Zortam Mp3 Media Studio you can batch auto tag your Mp3 files using Zortam database. Batch auto tag process download Cover Art, Lyrics and other metadata and automatically tags your Mp3 files. Program identifies your music, using advanced digital fingerprinting technology, automatically downloads missing Album Art, Lyrics and other track info including Artist, Genre, Year, Track Name, Track Number. Our software recognize over 35 million music items. Album Artwork, Lyrics and data saved can be viewed in iTunes, iPhone, iPod and Android mobile or tablet devices. Portable version allows you listening and organizing your Mp3 files from your USB drive.

Keywords: Zortam, Mp3 Media Studio, Mp3 Organizer, CD Ripper, Mp3 Player, Mp3 auto tagger, Mp3 Manager, Mp3 Tag Editor, MP3 Id3 Tag Editor, Tag Editor, Id3 Tag editor, ID3 tagger, Mp3 Normalizer, Lyric, Cover, Covers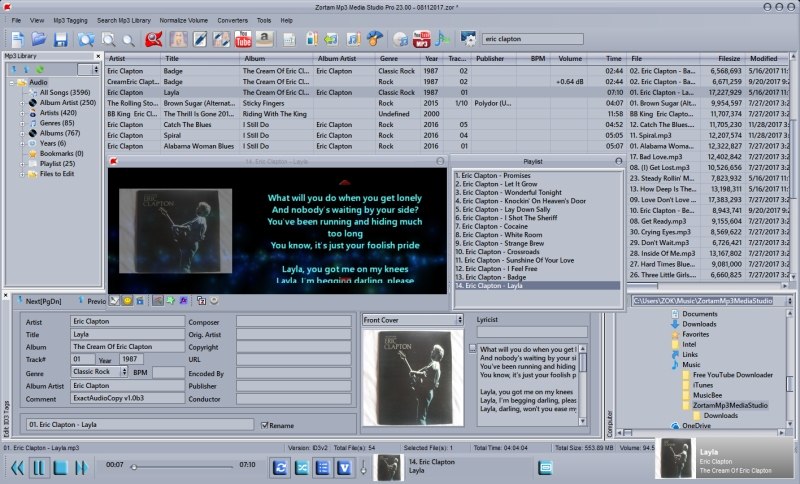 Related programs in Audio & Multimedia - Multimedia Creation Tools
Amazing CD Ripper
Amazing CD Ripper is a powerful and easy-to-use software for ripping audio CD.
CopyAudioCD
Convert your CD collection into MP3 one with this budget tool.
Tag&Rename
Mp3/mp4 music organizer: easily handles all popular digital audio files tags.
Free CD to MP3 Converter
A free CD ripper software rips audio CD and convert to MP3, Wav, Ogg, Wma file.
Zortam ID3 Tag Editor
ID3 tag editor, Mp3 Organizer, playlist,add lyrics/photos to Mp3
Ease CD Ripper
EASE CD Ripper is extremely easy to use CD Ripper for Win9X/NT/Me/2000/XP.
Express Rip Free CD Ripper
Download this free CD ripper that converts your CDs to mp3s on your computer.
CDH Media Wizard
All-in-one audio and video converter, editor, recorder, burner, and much more!
DeepRipper
Powerful AudioCD Ripping Utility Absolutely for Free
Audio CD Ripper
Extract CD tracks to WAV, MP3, WMA or OGG audio files.