Sports Card cataloging software for Windows. Our software allows sport card collectors, sport card hobbyists, card clubs, sport card dealers to organize, manage, and catalog their collections. For the database novice, Organizer's intuitive interface and ready-to-use sport cards cataloging solutions make it easy to set up and use. Flexible inventory management features are: quickly enter your collections with record templates - access sport card info any way you want - create simple and complex sport card reports, want to lists, catalog labels - generate web catalogs, for sale lists. There is no limit on the number of records you can add and the number of sport card catalogs you can create and manage. Other database management features: print report wizard, print label wizard, print customized documents, database backup, password protection, sort, simple and complex filter, export/import, summary/graphs, copy/paste record, record entry templates, copy/move record(s) to another database, and much more. There are additional database management solutions for collectors that could be easily imported to the program through the Internet, example: stamp, post card, coin, book cataloging solutions. Additional database solutions are free for registered users! There are 100 of them. Ordering is risk-free: 30-day money back guarantee.

Keywords: sport, sport cards, sports, card, organize, collect, catalog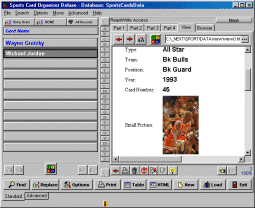 Related programs in Home & Hobby - Cataloging
Web Site Robot
Easy to use web site builder with blog, shopping cart, online photo album
HVFULLSC - Video Card and CPI Fonts
A clearer replacement for OEM VGA hardware fonts in CPI files and Video cards
Cresotech DesktopSafe Lite
Convenient tool for safe storage of confidential records/data
Red Dog
A gambling game that depends a lot on luck, Red Dog is played just for fun.
Desktop Task List
Perform the most straightforward task organization possible.
SafeShopper
Protects your credit card and identity while shopping online.
Berokyo for Windows
Berokyo is a desktop organizer and quick launcher application.
Contacts Clinic for Microsoft Outlook
Update Outlook Contacts Automatically,Extract Email from Internet Explorer pages
A-book
Handy digital address book with many useful options for home and office use.
Black Jack
This game by WorkHorse Games is a Vegas style Black Jack game.