Book organizer software for Windows users. Our software allows book collectors, hobbyists, book clubs, small private or public libraries to organize and manage book collections. For the database novice, Organizer's intuitive interface and ready-to-use book cataloging solutions make it easy to set up and use.
Our book management software comes with flexible features such as: quickly enter book records using record templates - access your book data any way you want (database table viewer, detail book record viewer, and customized html viewer) - create professionally looking book reports, book labels, or any book lists - generate html book reports - print customized mail merge book related documents. There is no limit on the number of books you can add and the number of small library databases you can manage. Other database management features: print report wizard, print label wizard, print customized documents, send email, database backup, password protection, sort, simple and complex filter, export/import, summary/graphs, network, copy/paste record, record entry templates, copy/move record(s) to another database, and more. There are additional database management solutions for collectors that could be easily imported to the program through the Internet, example: movie, music, antiques cataloging solutions. Additional database solutions are free for registered users ! There are 100 of them. Ordering is risk-free: 30-day money back guarantee.

Keywords: book, books, organize, software, hobby, library, inventory, reference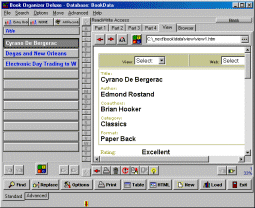 Related programs in Home & Hobby - Cataloging
AudioTime Scheduled Audio Recorder Basic
Programmable Audio Recorder and Player (Pre-Scheduled Audio Recorder)
Geoitem
Support of the directory of basic geodetic points
MegaUPS
Megatec compatible UPS minidriver for Windows 2000/XP/2003.
Server Maintenance Portal
Collect hardware and software assets across the network.
NotePager Pro
Send SMS or text messages to mobile phones and cell phones through the Internet!
No-Keys
Onscreen computer keyboard. Type with a mouse.
Money Meter
Money Meter is the easy way to track the average employee expense, per second.
Power Email Harvester
Power Email Harvester can search bulk email address from mail server.
iCopyExpert
iCopyExpert Copy songs from iPod to computer, or import to iTunes.
Mihov Website Merger
Mihov Website Merger is a program for merging parts of websites together.