A game maker in which you can easily create your own adventures in mythical, medieval settings. Using preset or custom characters, set up worlds in which you control the plot, action, and difficulty of the game. A variety of graphic images are included for you to use with Quest Creator such as these enemies: slimes, orcs, goblins, ogres, trolls, skeletons, zombies, dragons, and many, many more. You can play your own games or have your family and friends play them. Download a free trial version of Quest Creator! Use it indefinitely! Published by Dataware.

Keywords: Dataware, Quest, Creator, game maker, quest maker, game, maker, adventure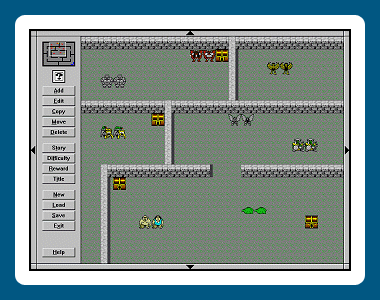 Related programs in Games & Entertainment - Tools & Editors
FlipFlop
FLIPFLOP is a game similar to Othello with additional features.
WebQuiz
WebQuiz is a program to solve quizzes online on the Internet or on a Intranet.
Mihov Gallery Creator
Create and upload image galleries with thumbnails!
Test Creator
Use the Test Creator to design and print tests or fully automate your classroom.
Barcode Software
Free barcode tag creator makes unique professional bar code labels and coupons
Likno Web Modal Windows jQuery SlideShow Addin
jQuery slideshow maker software: Make photo SlideShows for your html pages!
Sitemap Creator
Freeware sitemap creator
Web Gallery Builder
Web Gallery Builder creates great-looking websites that showcase your images.
novaPDF Lite
novaPDF Lite allows you to easily create PDF files from any printable document.
novaPDF SDK
Easily integrate PDF creation support in your application using novaPDF SDK.