Run a test with your students on the Internet, and analyse the results statistically. WebQuiz is a program to solve quizzes online on the Internet or on a Intranet. It runs on a Internet server. WebQuiz has been developed to be used together with QuizPro. WebQuiz uses the same format for the question files and the data base. Create your own quizzes with QuizPro and publish them on the Internet by using WebQuiz. The results of the questioning is stored in a database, which can be imported by QuizPro, and therefore analysed statistically. You can use either multiple choice or fill-the-blanks questions. More then one correct answer is allowed. It is possible to build timed tests and even add sounds or graphics to quiz items. Sample tests on Bible knowledge and Greek are included. As QuizPro, WebQuiz allows you to repeat only the questions you did not know before. A results table may be shown after a completed quiz. You may show feedback about your score and answers. Multilingual. WebQuiz is a compiled application and not a script. More

Keywords: WebQuiz, Internet, Intranet, Web, multilingual, Quiz, QuizPro, questions, question, questioning, test, vocab, vocabulary, language, learn, pupil, student, teacher, knowledge, bible, grading, marks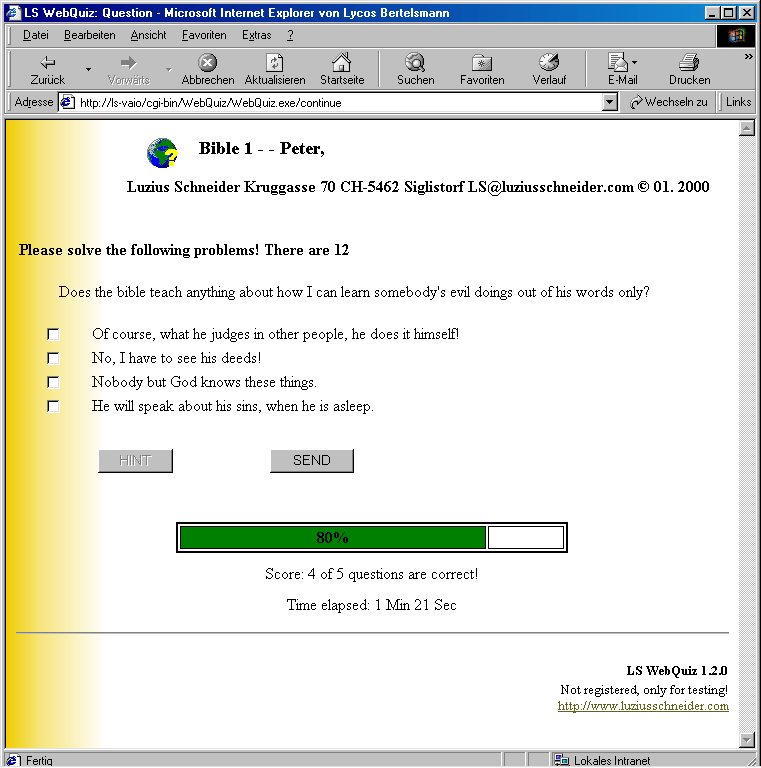 Related programs in Web Development - Other
FlexSite
Well organized, feature rich HTML authoring tool. Uses split screen to view.
Free Hide IP
Hide your real IP address to protect your privacy for FREE with Free Hide IP.
Web2Map
Internet Recherche Manager with offlinereader, fulltextsearch, archiving,...
jQuery Horizontal Menu Style 05
Create jQuery Horizontal Menu for your Website with beautiful effects easily!
Calcul
CALCUL to practise mental arithmetic?s or fractions.
FlipFlop
FLIPFLOP is a game similar to Othello with additional features.
AdiIRC
AdiIRC is an IRC client with multiserver support and a customizable interface.
Mihov Gallery Creator
Create and upload image galleries with thumbnails!
Web Site Robot
Easy to use web site builder with blog, shopping cart, online photo album
Button Shop
Presentation is everything, enhance your website with elegant buttons!