TextMaster is an extremely powerful and unique flat file editor. It allows you to very quickly and easily query your fixed/delimited files, as if they were an SQL database. This means that you can SELECT, UPDATE, INSERT, and DELETE, records from your data file without having to import it into a relational database.
If you're not an SQL master, don't worry we have many easy examples, and a wizard to walk you through the query building process!
Besides the usual SQL operations, you can perform other functions that are text file specific, such as splits or joins, removal of duplicate records, editing of columns, transforming multi-line text into a single line.
No matter what type of data file you have, no matter the size or structure, TextMaster is for you!
SQL Based Functions:
SELECT, INSERT, DELETE, UPDATE
Text Based Functions:
TMHSplit, TMVJoin, TMKeep, TMFile, TMDeDup
Supporting String Functions
Supports all common .NET String functions, such as ToUpper, ToLower, Trim, Substring, Contains, StartsWith, EndsWith, etc
Supports many other .NET functions and types, such as CONVERT, DATETIME etc
Integrated Tools:
FileCheck - Check file for inconsistencies, and view its structure and metadata.
FileExport - Export a certain amount of data from one file to another, at random or sequentially. Detect and fix invalid records.
FileTranscode - Change file encoding.
FileSplit/Join - Separate and Merge flat files by binary size, number of lines, or desired file count.
Powerful Document Editor
Open common documents (.doc,.docx,.rtf,.txt,.csv etc) in free Word Processing component.
Query
Perhaps I have a 10GB Firewall log file, and want to see just the entries for a particular port and IP range?
SELECT Port, IP FROM MyFirewall.log WHERE IP.StartsWith(192.168.0.) && Port == 443
Batch Query (Pro version only)
Massage and transform as many flat files at once, build a chain of queries, use variables, see query statistics etc

Keywords: query, flat file, encoding, text, file, fixed, delimited, data, SQL, slice, dice, analyse, quality, check, export, log, inventory lists, profile, csv, validation, excel, accessed, length, management, software, textmaster, text master data editor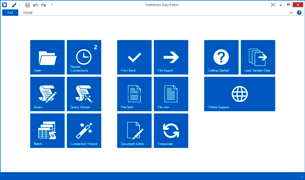 Related programs in System Utilities - Text/Document Editors
Recase
Recase is a tiny but handy folder and filename case-conversion tool.
Text2Html
Text2Html is a freeware plain text to HTML converter
Pdf2Txt
PDF TO TEXT Converter, supports batch conversion and command line
CoolSpeaking
Have your computer read emails, webpages, ebooks, or any text you type.
Web2Map
Internet Recherche Manager with offlinereader, fulltextsearch, archiving,...
Word to PDF
Convert word doc/docx, html, rtf, text to PDF, PNG, JPG, TIFF, BMP
Doc2Txt
a batch text converter that convert doc to text, html to text and rtf to text
Easydump for Oracle
EasyDump for Oracle is a GUI interface tool used to Export/Import data objects
Mihov Index Maker
A program that creates a HTML file containing links to all files in the folder.
PureSync
Easily synchronize, compare files and folders - with preview and automatic sync