Coloring book software from Dataware with all types of toys to color! It has the same interface as the other coloring books, but with new music. Download a free trial version of the Toy Coloring Book that you can use indefinitely! The 50 pictures included with the complete version are Airplanes, Airport, Art Set, Bathtub Toys, Blocks, Board Game, Boats, Bubbles, Camera, Cars, Computer Game, Doctor's Set, Doll House, Doll Outfits, Doll Stroller, Dominoes, Farm Set, Finger Puppets, Fire Truck, Garage Set, Jacks, Jungle Gym, Kites, Marbles, Music, Peek-a-boo Puppet, Peg Set, Pull Toy, Puppets, Puzzle, Robots, Rocking Horse, Shape Sorter, Skates, Sliding Puzzle, Sports, Spring Toys, Stuffed Animals, Swing Set, Tea Set, Tiny Animals, Tool Set, Toy Soldiers, Train, Tricycle, Trucks, Wagon, Xylophone, Yard Tool Set, and Zoo Puppets. Published by Dataware.

Keywords: Coloring, Book, Dataware, kids, color, art, children, numbers, train, preschool, game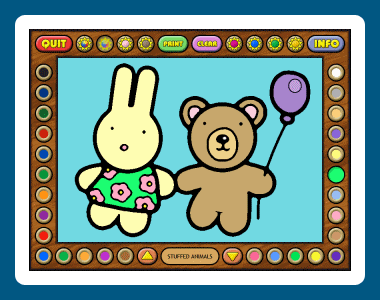 Related programs in Games & Entertainment - Kids
Sean's Magic Slate
Freeware coloring toy for ages 3-7. Easy, fun, great for imaginative play.
Twisted Tails
Old-time fairy tales with a hilarious new twist! Rapunzel, Cinderella, 8 more.
I Live at Santa's House!
Lets kids explore fantasy of being one of Santa's elves.
HTMLcolor
Advanced HTML-color picker with some clever options.
Color Cop
a multi-purpose color picker for web designers and programmers
2+ Block Buster
Addictive logical game.Click group of same color blocks to clear them.
Arcade Scramble
Rearrange letters to find words in this arcade style game.
RGB Editor 2000
Edit and view RGB colors for your programming and HTML projects.
Berokyo for Windows
Berokyo is a desktop organizer and quick launcher application.
Barcode Software
Free barcode tag creator makes unique professional bar code labels and coupons