Animals come alive in Sticker Book 3: Animal Town! Kids can create scenes using hundreds of animal character stickers and place them on dozens of scenic backgrounds. Since the stickers are electronic, not paper, kids can use them over and over again within different scenes. Scenes include are a home, a school, a woodworking shop, a playground, a doctor's office, a fast food restaurant, a fire station, a police station, an airport, a health club, a hair stylist, a supermarket, a clothing store, an alterations shop, a bookstore, a candy store, a toy store, a flower shop, a museum, a restaurant, an outdoor theatre, an indoor theatre, a night club, and a movie theater. Animal characters include bears, cats, cows, dogs, ducks, elephants, foxes, frogs, giraffes, goats, hippopotamuses, kangaroos, lions, monkeys, mice, ostriches, owls, penguins, pigs, rabbits, rhinoceroses, sheep, squirrels, tigers, and walruses. Download a free trial version of Animal Town Sticker Book that you can use indefinitely! Published by Dataware.

Keywords: Sticker, Book, Sticker Book 3, Dataware, kids, art, children, preschool, creativity, imagination, animals, game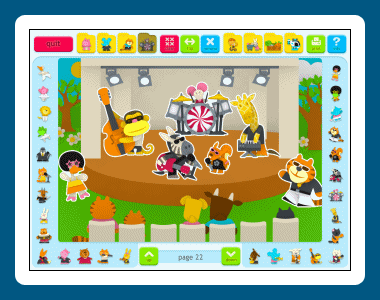 Related programs in Games & Entertainment - Kids
Sean's Magic Slate
Freeware coloring toy for ages 3-7. Easy, fun, great for imaginative play.
Twisted Tails
Old-time fairy tales with a hilarious new twist! Rapunzel, Cinderella, 8 more.
I Live at Santa's House!
Lets kids explore fantasy of being one of Santa's elves.
Arcade Scramble
Rearrange letters to find words in this arcade style game.
Berokyo for Windows
Berokyo is a desktop organizer and quick launcher application.
Contacts Clinic for Microsoft Outlook
Update Outlook Contacts Automatically,Extract Email from Internet Explorer pages
1st TurboRun Internet
Too many favorites? Not a problem anymore! Open any favorite web site instantly!
Picture Cube 3D
Show off your favorite photographs on a spinning 3D picture cube.
Edges
Play Edges, an amazing puzzle for those who prefer to think before clicking
Peepers
Save the frogs! An original puzzle game designed to relax you.