Password Manager eXtra Potection (XP) is a convenient software application for storing passwords, access codes, social security and credit card numbers and other valuable information that needs protection. It will be your passwords and secrets keeper. Protect your private data with this password management utility.

The program's unique features include capability to encrypt stored information with several encryption algorithms simultaneously (Blowfish, 3DES, Rijndael, Tea, Cast128, RC4, Serpent, Twofish). Importantly, no temporary files are ever created, guaranteeing the encrypted data will never be intercepted. The blocks of information are cleared from the computer memory as soon as they are no longer needed. And if the program is left idle for a set period of time, it will automatically shut down, making sure no one gets access to the information.

Password Manager eXtra Potection (XP) comes with a built-in password generator and is fully integrated with Internet Explorer, works with external media drives (USB Flash), and comes with multiple export and printing options. The program is very easy to install and operate. It also comes with backup and restoring options and informs you about expired passwords.

Password Manager XP is ideal for workgroup use. The program lets several users get access to the password databases. Importantly, access rights and privileges can be regulated. All changes inside the database are logged, giving the system administrator complete control over the users' actions. Password Manager XP is your password keeper.

Keywords: password, manager, encrypt, secure, storage, store, stored, security, adminisrator, internet, surfing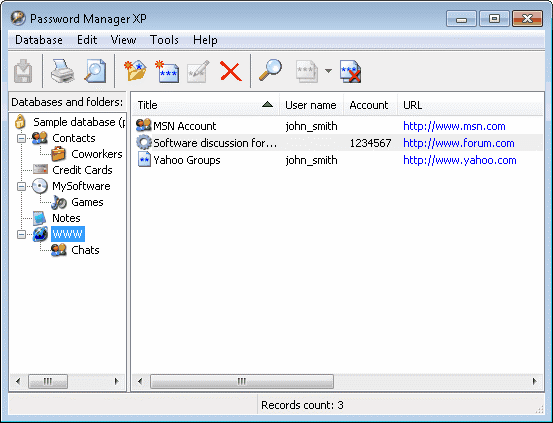 Password Manager XP 3.2.686

Author:

Downloads:

1302

Size:

2424K

Cost:

$29.95 US

Users Rating:

Feedback:

License:

Shareware [?]

Operating Systems:

Release Status:

update (2016-12-15)

Recent Changes:

new: Support for Enhanced Protected Mode in Internet Explorer on Windows 8 and Windows 8.1. new: Support for Internet Explorer 64-bit. new: Support for NT authentication on the latest versions of Windows Server.

Supported Languages:

English, Spanish, French, German, Italian, ChineseSimplified, Russian, Swedish, Slovak, Danish, Korean, Ukrainian, Dutch, Greek, Croatian, Czech, Norwegian, Lithuanian, Hebrew, Polish, Portuguese, Turkish, Romanian

Additional Requirements:

Windows All, CPU P100, 16Mb RAM
Related programs in Security & Privacy - Password Managers
Web2Map
Internet Recherche Manager with offlinereader, fulltextsearch, archiving,...
Keep It (a) Secret!
Keep your passwords, userids, etc. secure, in just one place.
SnugServer
Email Server plus FTP, Web, News & List Server with Anti-Spam/Virus & Encryption
ManageEngine Exchange Reporter Plus
Web-based Microsoft Exchange Server Reporting and Email Traffic Tracking Tool.
Tweak Manager
Take complete control of your Windows system with access to hundreds of tweaks.
NoTrax
Anonymous Browser-No Record of Internet Activity
ActiveX Easy Compression Library
Fast compression and high-ratio compression toolkit with strong encryption.
CMS CRM (5 User)
CMS Customer Relationship Management System
SynchroPass
Windows Network Passwords Synchronizer
Cresotech DesktopSafe Lite
Convenient tool for safe storage of confidential records/data