Plan. Build. Control. See a fully functional plotting table on your screen. If you've ever been struck in amazement by the miniature, colorful, and alive world of toy trains and wanted to plan your system and place every tiny house and tree accordingly. If you ever have wanted the ability to turn controls on and off, set the meters, and watch the trains buzz by, or be able to switch off the lights in your room and see how the night lights up in dozens of small bulbs, then try Rule the Rail.
Great graphics, easy to use interface, and downloadable extension packs to have a really big collection of engines and rolling stocks. If you would like to build the model railway of your dreams, it is time to try Rule the Rail!
You can move and place every little objects, paint the buildings, control the trains manually or with automated switches. Rule the Rail! has a beautiful night view mode, it depends only on you, how your world will look like.
Huge number of downloadable works - made by Rule the Rail! enthusiasts - are available on the Rule the Rail! hompage.
Detailed tutorial and manual are also included.

Keywords: train, game, virtual, simulation, railway, railroad, model, engine, steam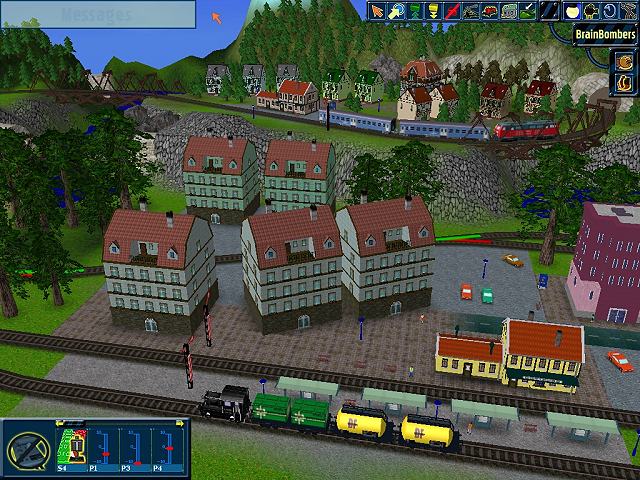 Related programs in Games & Entertainment - Simulation
WinMind
WinMind is a single-player game. Your goal is to break a secret code.
Spell-Mell
Spelling, vocabulary & quiz game for whole family.
Whirlwords
Challenging word chain puzzle includes 100+ levels, editor, online help.
Hierophant
Unscramble the mystic symbol. A new puzzle every time!
Jumble
Word game - unscramble familiar phrases. Configurable!
NoteCard 2
Learn the musical notes. Treble and/or bass. Builds fluency quickly.
Oktagon
Not 1 but 2 octagonal puzzles!
Pic-Tac-Toe
Like 3D tic-tac-toe, but easier and more fun.
Sean's Magic Slate
Freeware coloring toy for ages 3-7. Easy, fun, great for imaginative play.
Venables
Abstract two-player strategy game with novel features. Easy to learn.