NoteCard 2 is an educational utility for aspiring musicians of all ages. It will give you drill at recognizing music notes and turn you into a fluent note-reader. It can significantly shorten the time it takes to learn to recognize the notes instantly, an absolutely necessary ability for fluent reading. Soon you will be able to recognize and name the musical notes without conscious effort or the risk of error, just as you are able to recognize the letters of the alphabet now. We believe there are important payoffs to mastering this vital skill early in your musical career: it builds confidence, encourages sight-reading, and helps.

NoteCard 2 works similarly to real-world flashcards, but with the benefits and conveniences of a computer-based implementation. As notes are displayed on a musical staff, you enter the note name, or click in the appropriate place on a piano keyboard or guitar neck graphic. The software provides practice with both treble and bass staves, individually or together. Work through twelve levels as your skill builds. NoteCard 2 is an excellent tool for anyone in the first stages of learning to read music.

NoteCard 2.5 is the last NoteCard to support Windows 95 and Window 98, and is intended chiefly for users of those legacy operating systems. For users with Windows XP, Windows Vista and Windows 7, we recommend the latest release of NoteCard 3, which is available in both free and paid versions. Please visit AheadWithMusic.com for detailed information.

Keywords: music, musical, notes, drill, sight-reading, piano, guitar, practice, practise, staff, education, educational, free, aha, familygames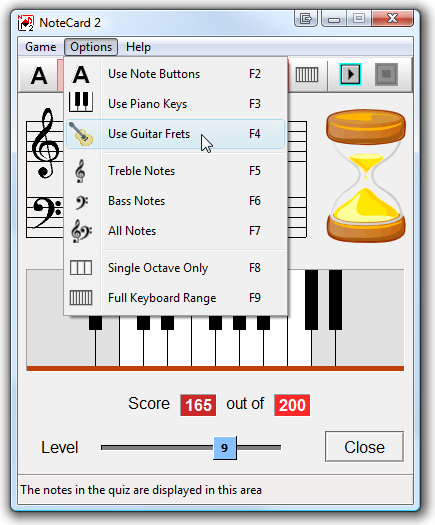 Related programs in Education - Teaching & Training Tools
Snippets Text Database
Finally, a fast and easy way to store all your notes. Many features.
AnyDocForm
Display and edit any text, number and date items in any Notes/Domino document
Rich Chart Builder
Rich Chart Builder creates enjoyable interactive data charts.
GeneralKB
Create and maintain knowledge base. Organize your documents, notes, web pages.
Export Notes to Outlook
Export Notes to Outlook with prudent Lotus Notes to Outlook tool
NoteScribe
A note-taking software designed to assist with organizing notes on your computer
120GuitarChords
Play the Guitar chords right away - no experience required!
iDailyDiary
Page-for-a-day diary or journal. A simple interface with multiple open diaries
Portable Efficient Sticky Notes
Completely free yet cross-platform and easy-to-use desktop sticky notes utility
Adit Testdesk Server
Scrap paper-based exams for secure online testing!