With SuperMailer you can send personalized serial mails (like newsletters) as plaintext or HTML with additional attachment using up to 10 threads simultaneous. The recipients of the message can be imported from a text file, the Windows addressbook, from Microsoft Outlook, Excel or a SQL database. SuperMailer manages the recipients of the message, the email content and attachments in a project, so you can easily reuse the data. Emails as HTML can be easy created with the integrated WYSIWYG editor, so you can insert images, hyperlinks and tables on the fly in your email. While sending the emails you can see live the progress. After done you can save a protocoll as plaintext or HTML file. SuperMailer uses a SMTP server, Microsoft Outlook, a MAPI capable client, sends the messages directly to the recipient or uses a PHP script to send newsletter over your server/web space. Additional it integrates a function to check email addresses, hyperlinks, correct spelling and tracking for success control. With a subscription / unsubscription script (for free) you can manage your newsletter subscriptions and unsubscriptions very easily.

Keywords: Newsletter, software, email, mass mail, send newsletter, outlook, smtp, exchange, sql, database, html, text, plain text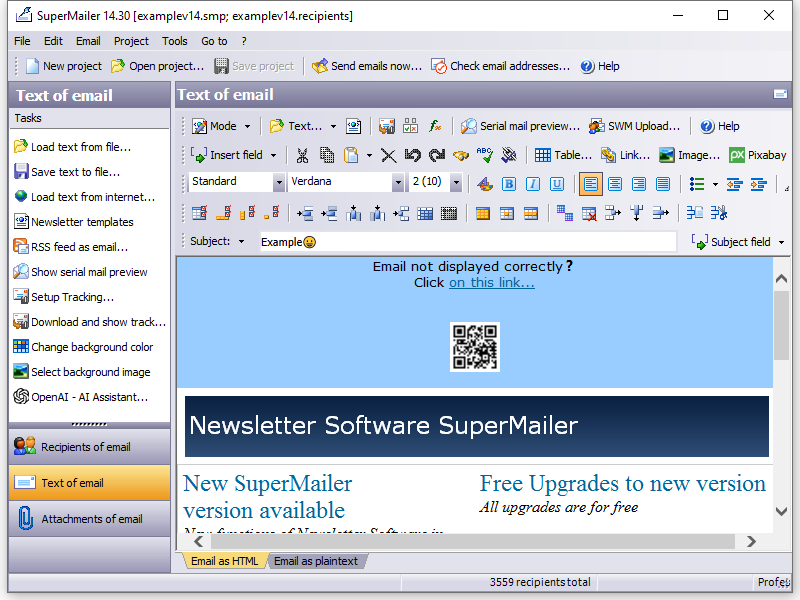 Related programs in Communications - E-Mail Clients
Free Hide IP
Hide your real IP address to protect your privacy for FREE with Free Hide IP.
AudioTime Scheduled Audio Recorder Basic
Programmable Audio Recorder and Player (Pre-Scheduled Audio Recorder)
Geoitem
Support of the directory of basic geodetic points
MegaUPS
Megatec compatible UPS minidriver for Windows 2000/XP/2003.
Server Maintenance Portal
Collect hardware and software assets across the network.
SnugServer
Email Server plus FTP, Web, News & List Server with Anti-Spam/Virus & Encryption
NotePager Pro
Send SMS or text messages to mobile phones and cell phones through the Internet!
No-Keys
Onscreen computer keyboard. Type with a mouse.
Money Meter
Money Meter is the easy way to track the average employee expense, per second.
Power Email Harvester
Power Email Harvester can search bulk email address from mail server.