Cresotech TypeRecorder (T-Rec) is easy to use and convenient utility for recording keystroke sequence while working with word processing programs, games, multimedia applications, etc. Simple way to avoid excessive manual typing by using pre-recorded macros. This is a new software tool that revives an old pianola principle: performed successions of keystrokes are mechanically recorded as individual exercises, and further playback of these is an artful simulation of the maestro performance. This old notion of recording input rather than output signals, which distinguishes the effects of mechanical piano from phonograph, provides you with new possibilities. While working with any word-processing software, you can click on the TypeRecorder button in order to store/paste any text fragment or keystroke succession using a special buffer. If you enable the T-Rec function while playing some Windows-based and keyboard-controlled software, you can easily re-simulate (and edit) your actions for any time. This effect gets more pronounced when T-Rec is used with multimedia musical programs: thus, you can analyze your mistakes and improve your keyboard performance. These state-of-the-art features of the revived type-recording principle make an impressive comeback of the Cresotech TypeRecorder debut!

Keywords: type, recording, typing, macro, key, keys, command, sequence, recorder, T-Rec, Cresotech, desktop, utility, fun, easy, enjoy, tool, automate, keystroke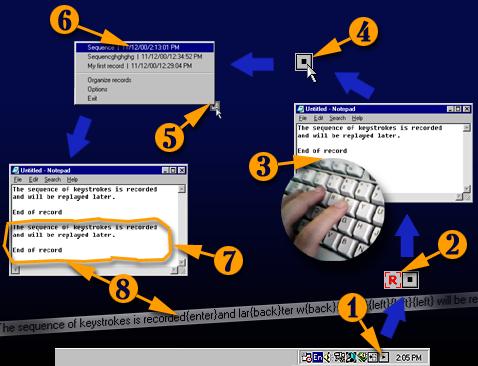 Related programs in System Utilities - Clipboard Tools
Mihov ASCII Master
Show ASCII value of any key pressed in decimal or hex!
AudioTime Scheduled Audio Recorder Basic
Programmable Audio Recorder and Player (Pre-Scheduled Audio Recorder)
Sound Control
Sound mixer applet which allows you to add hot keys to volume mixers and Winamp.
ASCIIvalues
'No Nonsense' tool that displays the ASCII value of each key as you press it.
PELock
PELock - exe-protector and advanced license key system
No-Keys
Onscreen computer keyboard. Type with a mouse.
Money Meter
Money Meter is the easy way to track the average employee expense, per second.
JukeRec
Get more out of online radio by using an Internet radio recorder.
Power Components, Flash Text Effects
Power Pack Components - Text Effects extension / plugin for Macromedia Flash
101 Clips
Free Multi-Clipboard and Clip Organizer