Do you have a large CD collection but can?t find a CD you need easily? Are you afraid that your favorite CD may get scratched or otherwise damaged? Then it makes perfect sense to convert your CD collection into mp3 files that will always be readily available at your PC. Plus, if you have a portable mp3 player, you can takes tunes with you wherever you go, instead of having to drag along tons of plastic.
This is how CopyAudioCD works. You insert your audio CD, the program automatically reads tracks, you select which ones (or all) need to be ?ripped?, then you press one button, and in 60 seconds or so you convert CD into a collection of mp3 files that you can copy, upload, share, place onto data CD, etc. The program works extremely fast because it does not create intermediary wav file, unlike most other programs. And CopyAudioCD comes with ID3 tag support, so you can have information about performer, album, or song title available in the newly created mp3 file. A built-in player allows you to listen to any track to make sure it?s the one you need.
CopyAudioCD is the easiest mp3 converter available on the market. In fact, there is only one button (Convert to MP3), so there is no confusion that other titles may cause. And, at $19.90 it?s one of the most affordable ones, since other slower programs cost anywhere from 30 to 50 dollars and come with confusing features regular users rarely need.
So, if you are ready to say ?No? to plastic and ?Yes? to digit, CopyAudioCD is the right choice for you.
Did I say that it is 100% to download and try? And you can request to implement any feature you need.

Keywords: CD ripper, CD ripping, WAV, MP3, MP3 software, rip tracks, rip, audio CD, CD Extractor, extract, record, music, CD player, CDDB, CDDB support, CD tracks, ID3, ID3 tags, ripping, audio, CD Ripping Tools, CD Burning Tools, software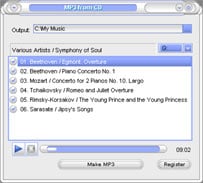 Related programs in Audio & Multimedia - Rippers & Converters
Cresotech Hotpancake (Player)
Tool that allows you to replay multimedia collections.
Cresotech Hotpancake (Editor)
Tool that allows you to create, store and replay multimedia collections.
CoolSpeaking
Have your computer read emails, webpages, ebooks, or any text you type.
Web Site Robot
Easy to use web site builder with blog, shopping cart, online photo album
Mihov DiskFree
Show free disk space, info updated every second.
DRS 2006 Webreceiver
DRS 2006 Webreceiver. Manage all your favorite internet radio stations. Freeware
MP3Guard MP3 Protection
Simple to use MP3 protection for encryption of MP3 files.
Easy MP3 Alarm Clock
Wake up to the sound of this alarm clock that supports MP3 and other audio files
Amazing CD Ripper
Amazing CD Ripper is a powerful and easy-to-use software for ripping audio CD.
AKRAM Media Creator
Create Data CD & DVD , Craete Audio & MP3 CD, Audio Editor, Audio Converter