A4 Photo Enhancer is a fast and easy to use real-time image enhancing application. This cute tool transforms your ordinary, dull, flat looking photos into detailed, rich, glowing, beautiful images. It improves the quality of your photos in a number of ways: adjusting brightness, contrast, gamma, hue, lightness, saturation, red-green-blue, desaturating, intensity, inverting, equalization, threshold, posterize on demand; applying sharpen effect, blur effect, minimal and maximal effect, positional filters effect, noise effect, diffuse effect, embossing effect, relief effect, texturize effect, mosaic effect, halftones effect; performing autocrop transformation, flip vertical and flip horizontal transformation, rotation transformation, perspective transformation, skew transformation, twirl transformation and more.

The following image formats are supported:
1. BMP (standard Windows Bitmap file format)
2. JPEG (Joint Photographic Expert Group file format)
3. GIF (Graphics Interchange file Format)
4. PNG (Portable Network Graphics file format)
5. ICO (standard Windows Icon file format)
6. CUR (standard Windows Cursor file format)
7. ANI (standard Windows Animated cursor file format)
8. WMF (standard Windows Metafile format)
9. EMF (Enhanced Windows Metafile format)
10. TIFF (Tagged-Image File Format)
11. PCX (ZSoft Paintbrush File Format)
12. TGA (Truevision Targa File Format)
13. RAS (Sun Raster Image File Format)
14. J2K (Jpeg 2000 File Format)

Keywords: image enhance, photo enhance, photo enhancer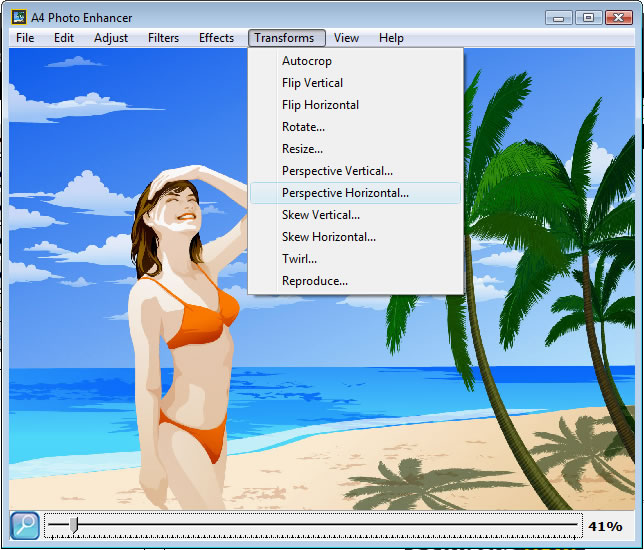 Related programs in Graphic Apps - Editors
ShineOff
Adobe Photoshop compatible Plug-In filter that automatically removes face shine.
SensorKleen Pro
SensorKleen Pro removes artifacts created by dust on the DSLR camera sensor
Magic Denoiser
A Photoshop/PSP noise removal plug-in preserving the fine details in the image
AKVIS Noise Buster
Software for noise suppression on digital and scanned images
PhotoKit
PhotoKit is an Adobe Photoshop plug-in providing photographic effects
AKVIS Retoucher
AKVIS Retoucher is an efficient software for photo restoration and retouching.
AKVIS Stamp
AKVIS Stamp - Image Healing Tool for seamless defects removal and object cloning
DustKleen
DustKleen automatically cleans scanned images
Magic Enhancer Lite
Using Magic Enhancer you can adjust lightness, contrast and color balance.
Photo Pos Pro photo editor
Edit, enhance, and manipulate your digital photos or graphics