PhotoPad Pro Edition for Windows is a professional photo editor for Windows. PhotoPad Pro allows you to edit and apply effects to photos and other images. When editing photos you can crop, rotate and resize and, if required, add effects like sepia tones, red eye reduction as well as the ability to change the hue, saturation and brightness levels plus more.

PhotoPad Pro Edition Features:
* Crop, rotate and flip photos and images.
* Load gif, jpg, psd, png, bmp picture formats and more.
* Edit hue, saturation, brightness and contrast.
* Apply effects such as sepia tones, greyscale, red eye reduction and more.
* Preview effects before applying.
* Easy deletion of each applied effect without removing other applied effects.
* PhotoPad can be added to your right click menu for easy access.

Keywords: image editor, photo editor, edit photos, edit images, windows photo editor, photo editing software, image editing software, image editing, photo editing, crop photos, crop images, resize photos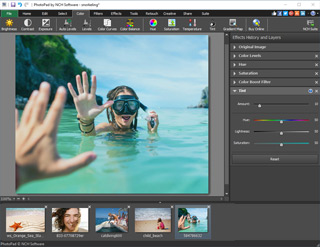 Related programs in Graphic Apps - Editors
Orange Photo Editor
An easy-to-use program to view and manage your photos.
PhotoFit Premium
professional panorama photo stitch software for huge Panorama, upto 1200 M pxs
PC Image Editor
PC Image Editor is a graphics editor with features of a professional product.
DreamLight Photo Editor
Easily add many special dream effects onto your photo with DreamLight Photo Edit
Magic Photo Editor
Easilly blend photo onto another picture. Add clipart, cartoon, outline, frame
CaptureXT Screen Capture
Take screenshots and edit professionally with ease.
AKVIS Noise Buster
Software for noise suppression on digital and scanned images
Thumb Buddy
Create stylish photo albums of all your precious digital pictures in a snap.
MobaPhoto
Batch resize, crop, edit pictures and create photo galleries very easily
Amazing Photo Editor
Powerful and easy-to-use photo editor & converter