Record and track your important blood sugar test results with neatly printed daily or weekly blood glucose diary sheets for your hand-kept blood sugar records. Print either daily blood glucose diary sheets or weekly blood glucose diary sheets to standard 8 1/2 inch x 11 inch paper using your printer. Never run out of blood sugar diary pages again. Print as few or as many daily or weekly blood sugar diary sheets as you need at a time. The standard size diary page print outs will fit easily into a standard three-ring notebook for storage. PrintAGlucoseDiary will help its user keep an organized hand-kept diary or logbook of his or her blood glucose tests. Easy to use.

The results of your blood glucose tests will help your doctor make any needed changes to your diabetes management routine. This will improve your health and help you to feel good. Based on your blood sugar test results, your doctor may make changes to your medication, diet, or exercise plans, all of which can improve your blood sugar readings. With an accurate, organized, and legible hand-kept blood glucose diary your doctor's job of interpreting your blood glucose control is easier. The better your doctor knows how well your blood sugar is being controlled, the better he or she will be able to make adjustments to your medicine, diet, and exercise plans...so you stay healthy. PrintAGlucoseDiary will help you to neatly record your important hand-kept blood sugar test results.

Runs under the Windows 95, Windows 98, Windows 98SE, Windows Me, and Windows XP operating systems. Microsoft Word 2002(XP) or a newer version is required by PrintAGlucoseDiary to print the glucose diaries.

Keywords: diabetes, software, glucose, printable blood sugar diary, printable glucose diary, journal, diabetes software, diary, journal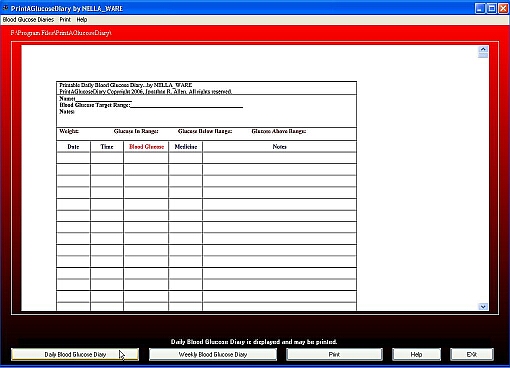 Related programs in Home & Hobby - Health & Nutrition
AudioTime Scheduled Audio Recorder Basic
Programmable Audio Recorder and Player (Pre-Scheduled Audio Recorder)
Geoitem
Support of the directory of basic geodetic points
MegaUPS
Megatec compatible UPS minidriver for Windows 2000/XP/2003.
Server Maintenance Portal
Collect hardware and software assets across the network.
NotePager Pro
Send SMS or text messages to mobile phones and cell phones through the Internet!
No-Keys
Onscreen computer keyboard. Type with a mouse.
Money Meter
Money Meter is the easy way to track the average employee expense, per second.
Power Email Harvester
Power Email Harvester can search bulk email address from mail server.
iCopyExpert
iCopyExpert Copy songs from iPod to computer, or import to iTunes.
Mihov Website Merger
Mihov Website Merger is a program for merging parts of websites together.