Connection Keeper is an invaluable time-saving tool for dial-up users. This free program simulates Internet browsing (at a random interval) to prevent the connection from appearing idle, thus preventing your ISP from dropping the connection due to inactivity. Connection Keeper can also automatically close many types of popup windows, such as those asking if you wish to stay connected. And if the connection is lost, Connection Keeper can automatically dial back in, restoring the connection as fast as possible. It can also monitor websites, DNS records, and DNS blacklists. Save your time and sanity - try Connection Keeper today.

Keywords: internet, connection, connect, disconnect, isp, dropped, disconnected, monitor, utility, keeper, inactive, inactivity, idle, dropped, tray, free, freeware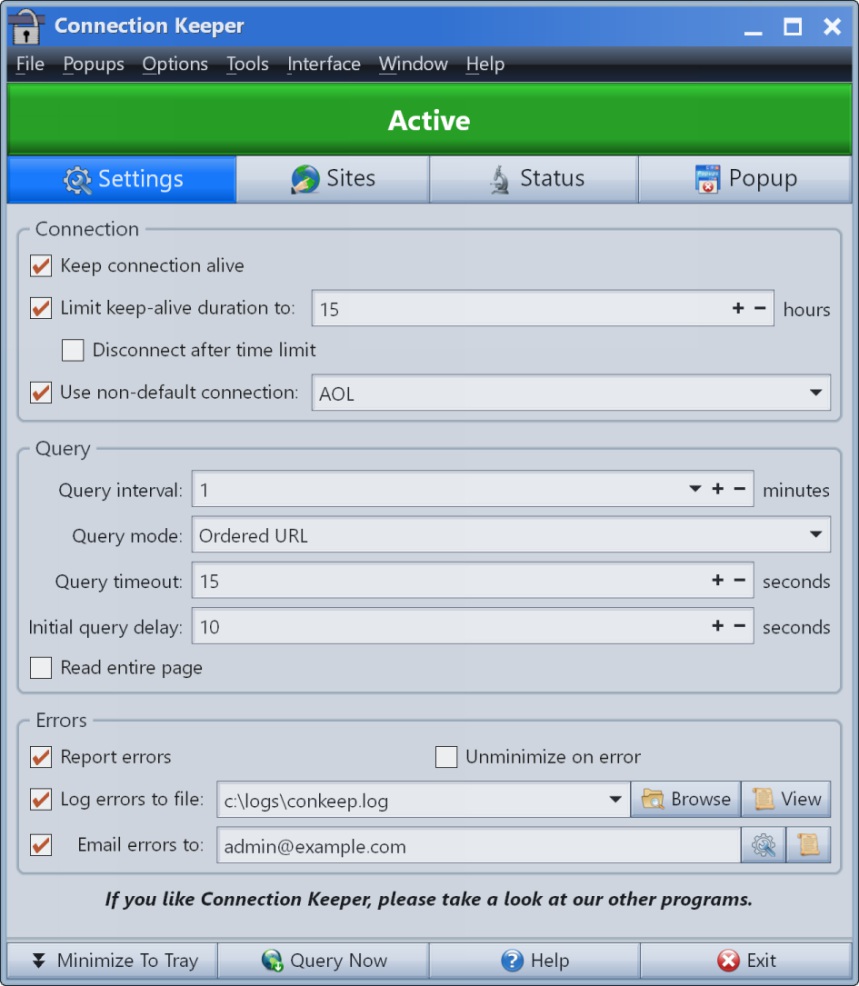 Related programs in Communications - Dial Up & Connection Tools
Free Hide IP
Hide your real IP address to protect your privacy for FREE with Free Hide IP.
Sound Control
Sound mixer applet which allows you to add hot keys to volume mixers and Winamp.
NotePager Pro
Send SMS or text messages to mobile phones and cell phones through the Internet!
NotePager 2
Send text or SMS messages to pagers and/or cell phones easily !
SP Dialer
Advanced Internet dialer, PC clock synchronizer and proxy server.
dotConnect for PostgreSQL
A data provider for PostgreSQL built over ADO.NET architecture.
BBMonitor
Bandwidth speed test meter and monitor, stores bandwidth results in a database
Mihov Link Checker
Tells you if the links on a web site are expired, not valid or otherwise corrupt
ShowFont - Windows Font Lister
Font utility that will list and describe the fonts available on your system.
Montage
work faster & easier by visually organizing applications, files, and web links