Minimize downtime of your server! Any time your website is not available will result in a moneraty loss. With this freeware monitoring tool you may constantly check the response from your HTTP, HTTPS or FTP server and make sure that your website is online 100% of time. This software can periodically poll a specified URL on your HTTP/HTTPS server or ftp host and alert you if your site or address suddenly becomes not accessible. You may specify sound, modal or instant messenger style popup message type alarms and immideately take action once you notice that your site is offline. You may even instantly check http, ssh, mySQL, https, pop3 and smtp(25) ports with a single click from a different IP address. Reports generation and direct print out from the software is available.

Keywords: web, server, monitoring, monitor, monitor ip, ip monitoring, webserver, monitoring website, apache, http, https, ssh, telnet, mysql, port scan, monitor ports, pop3, smtp, servers, https monitoring, httpd moniting, tcpip, tcp ip, protocol, ips monitoring, host monitoring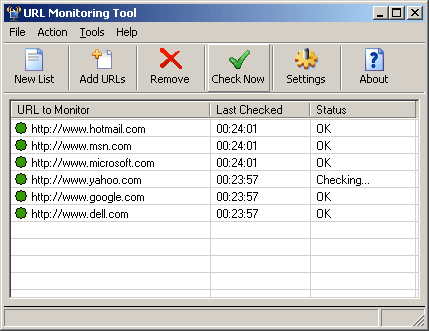 Related programs in Network & Internet - Network Monitoring
Free Hide IP
Hide your real IP address to protect your privacy for FREE with Free Hide IP.
WDumpEvt
Windows NT/2000 eventlog management tool: dump, save, view the local/remote log
CacheBoost Server Edition
Boost performance with system and cache management of Windows.
CacheBoost Professional Edition
Boost system performance and cache-management of Windows XP, NT, 2000.
MegaUPS
Megatec compatible UPS minidriver for Windows 2000/XP/2003.
Server Maintenance Portal
Collect hardware and software assets across the network.
Web Site Robot
Easy to use web site builder with blog, shopping cart, online photo album
SnugServer
Email Server plus FTP, Web, News & List Server with Anti-Spam/Virus & Encryption
ManageEngine Exchange Reporter Plus
Web-based Microsoft Exchange Server Reporting and Email Traffic Tracking Tool.
Mihov DiskFree
Show free disk space, info updated every second.