Monitor network hosts and services on a visual map. Get MAC addresses, scan TCP and UDP ports, and be notified when devices turn on or go down. Create network diagram and watch your network state in a visual form in the real time.
The program includes a number of features for administrators such as sending messages, shutting down and turning on remote computers, ping, name lookup, trace routing, obtaining information on remote computers, creating reports, etc. LANState does not require installing any client software on remote computers on your network.

Main features:
1. Modeling a local area network diagram in a visual mode and then saving the result as a map with images.
2. Monitoring hosts (ICMP ping and connecting to TCP port are supported as well as 40 other checks and network protocols).
3. Monitoring usage of your shares by other users of the network.
4. Monitoring load of your network card (incoming/outgoing traffic).
5. Searching hosts by ICMP ping or scanning TCP ports.
6. Retrieving computer's network name by its IP address.
7. Notifying on events by playing a sound, writing to log, running program, sending e-mail, SMS, etc.
8. Performing actions on devices via the configurable map context menu.
9. ICMP, TCP/IP, DNS, ARP, MAC, SNMP, WMI, Syslog monitoring, etc.

Keywords: network, map, diagram, mapping, lan, monitor, monitoring, host, tcp, scanner, mac, remote, computer, lanstate, 10-strike, shutdown, administrator, dns, reboot, device, restart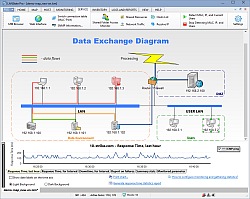 Related programs in Network & Internet - Network Monitoring
Web2Map
Internet Recherche Manager with offlinereader, fulltextsearch, archiving,...
WinMessenger
Easy to use & convenient WinPopup replacement that works in any Windows version
FlipFlop
FLIPFLOP is a game similar to Othello with additional features.
WebQuiz
WebQuiz is a program to solve quizzes online on the Internet or on a Intranet.
StarStrider screen saver
Turn the StarStrider 3D planetarium into a screen saver!
Fomine WinPopup
Fomine WinPopup is an instant-messaging tool for all versions of the Windows.
3D Word Slider
A full 3D attractive and colorful word puzzle game in three languages.
Winsent Messenger
Instant messenger for use within LAN
Arcade Scramble
Rearrange letters to find words in this arcade style game.
Excel Convert Files From English To Swedish and Sw
Convert MS Excel files from English to Swedish and vice versa.