LangOver helps in case you write some text and forgot to click ALT+SHIFT or CAPSLOCK. Annoying, eh?! That's because the keyboard layout was in a wrong language. LangOver will fix it.
With LangOver 5.0 you'll be able to convert your text quickly between languages. Just Click 'F10' and your text will be fixed! LangOver 5 is free and Supports ANY language! You can also Send text from pc to smartphone device - mobile using QR Code.

Use F10 (For mix-up between languages)
Just click F10 - and your text will be fixed!

LangOver support any language.

It can convert from ANY LANGUAGE to ENGLISH,
and from ENGLISH to ANY LANGUAGE.


Use 'F10': (For mix-up between languages) - Just click F10 and your text will be fixed!


Use 'SHIFT+F10': for converting upper / lowercase text: ABC abc


Use 'F6': For reversing a text, In addition LangOver can reverse your text: ABC CBA


Use 'Control+G': TO search in Google


Use 'Control+T': TO translate your text by Google

Keywords: LangOver, convert, text, languages, mix up, caps, keyboard, layout, writing, editor, dictionary, translation, freeware, download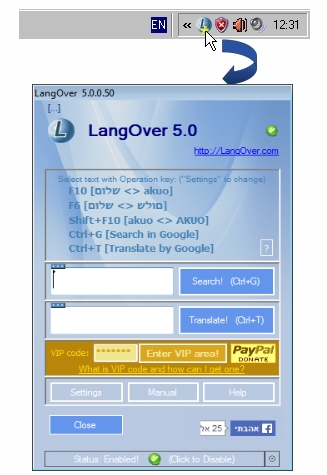 LangOver 5.5.0

Author:

Downloads:

840

Size:

1587K

Cost:

$0.00 US

Our Rating:

Users Rating:

Feedback:

License:

Freeware [?]

Operating Systems:

Release Status:

update (2017-04-16)

Recent Changes:

Send text from pc to smartphone device - mobile using QR Code.

Keyboard status bar.

Supports any language.
Improve hotkey to work with any combination.
Trnalsate languages

Supported Languages:

English, German, French, Italian, Spanish, Japanese, Russian, ChineseSimplified, ChineseTraditional, Abkhazian, Afrikaans, Albanian, Amharic, Arabic, Armenian, Aymara, Azerbaijani, Bashkir, Basque, Bengali, Bhutani, Bislama, Breton, Bulgarian, Burmese, Byelorussian, Cambodian, Cata

Additional Requirements:

.NET 2.0
Related programs in Education - Dictionaries
Text2Html
Text2Html is a freeware plain text to HTML converter
Pdf2Txt
PDF TO TEXT Converter, supports batch conversion and command line
CoolSpeaking
Have your computer read emails, webpages, ebooks, or any text you type.
Web2Map
Internet Recherche Manager with offlinereader, fulltextsearch, archiving,...
Word to PDF
Convert word doc/docx, html, rtf, text to PDF, PNG, JPG, TIFF, BMP
Doc2Txt
a batch text converter that convert doc to text, html to text and rtf to text
NotePager Pro
Send SMS or text messages to mobile phones and cell phones through the Internet!
3D Word Slider
A full 3D attractive and colorful word puzzle game in three languages.
ASCII Animator
convert GIF image to animated ASCII art
SyncFolder
The fast way to compare and merge your files and folders