Coloring book software filled with 50 pages of delightful little monsters at play and in other delightful situations where you would normally find kids. There's something unexpected on every page! Download a free trial version of the Monster Coloring Book that you can use indefinitely! The 50 pictures included with the complete version include scenes with monsters eating, playing with balls, bathing, playing at the beach, playing at the playground, swimming, flying a kite, reading, playing music, playing with bubbles, playing with blocks, playing chess, playing on a hobby horse, singing, riding a tricycle, playing dress up, watching TV, and many more. Published by Dataware.

Keywords: Coloring, Book, Dataware, kids, color, art, children, monsters, preschool, game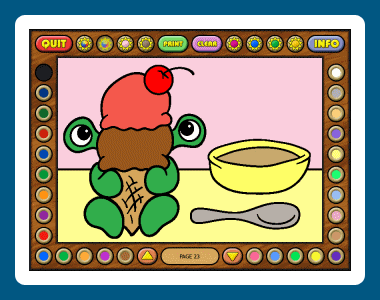 Related programs in Games & Entertainment - Kids
Sean's Magic Slate
Freeware coloring toy for ages 3-7. Easy, fun, great for imaginative play.
Twisted Tails
Old-time fairy tales with a hilarious new twist! Rapunzel, Cinderella, 8 more.
I Live at Santa's House!
Lets kids explore fantasy of being one of Santa's elves.
HTMLcolor
Advanced HTML-color picker with some clever options.
Color Cop
a multi-purpose color picker for web designers and programmers
2+ Block Buster
Addictive logical game.Click group of same color blocks to clear them.
Arcade Scramble
Rearrange letters to find words in this arcade style game.
RGB Editor 2000
Edit and view RGB colors for your programming and HTML projects.
Berokyo for Windows
Berokyo is a desktop organizer and quick launcher application.
Barcode Software
Free barcode tag creator makes unique professional bar code labels and coupons