Church Library Organizer Pro (church edition): library software designed for your Church, Synagogue, Clergy institutions, Church School, and more. Our Library Software serves the library organization needs of any size churches. It will help with the following library tasks: Quickly catalog your church library items (books, videos, dvds, cds, ...). Record information about patrons of your church library. Easily process circulation transaction. Catalog collections manually. Catalog library items automatically from the Web (by ISBN, UPC numbers). Import data from MARC records, or text delimited files, ..
Process check-in and check-out transactions (manually or with a barcode scanner). Search items by any field. Print library reports . Print barcodes. Print spine labels. Print inventory labels. Print overdue reports. Print address labels. Print Member cards. Send emails from the software. Search patrons by any field. Print member directory. Free add-ons: OPAC - Library dataBase Browser/Viewer, Check In/Out module, Database Designer, and more..

Keywords: church library, book, windows, library software, cataloging, organizer, library maintenance system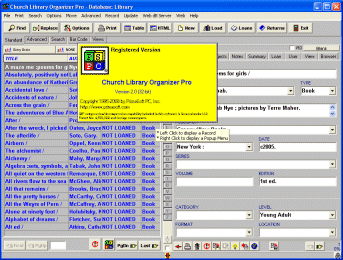 Related programs in Business - Inventory & Barcoding
WDumpEvt
Windows NT/2000 eventlog management tool: dump, save, view the local/remote log
Mihov ASCII Master
Show ASCII value of any key pressed in decimal or hex!
XSLaunch
XSLaunch is a simple but a most efficient Windows Explorer add-on.
Agent Undercover
Fun and easy tool to cut a holes of any shape and depth in windows on desktop.
Cresotech Hotpancake (Player)
Tool that allows you to replay multimedia collections.
Cresotech Hotpancake (Editor)
Tool that allows you to create, store and replay multimedia collections.
Zoner GIF Animator
Superb GIF animator that can create banners
Server Maintenance Portal
Collect hardware and software assets across the network.
Tweak Manager
Take complete control of your Windows system with access to hundreds of tweaks.
sysCOMP
Remotely compare any two systems on your network.