10-Strike Network Diagram is a powerful network diagrammer and mapper for the quick creation of visual local-area network maps and diagrams, and exporting them to Microsoft Visio, or saving as charts, vector, or raster images.
The program will scan your managed switches via SNMP and discover the LAN topology automatically.
It supports scanning via the ICMP, TCP, UPnP, SNMP, and LLDP protocols, builds a graphical network map, displaying devices of different types as special vector icons, and draws links between them.
The advantage of the application is a convenient, feature-rich graphic editor and an object library; a wide range of quality network device icons, "stretching" lines and areas of different forms. In addition, the software offers a wide choice of colors, fonts, and fillings for graphic primitives for editing the network diagrams. All these means can make your network maps and diagrams better-looking.

Keywords: network, diagram, map, local, lan, program, software, computer, switch, snmp, topology, visio, topography, structure, mapper, diagrammer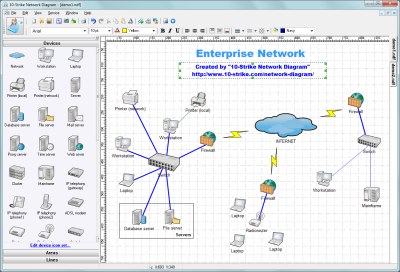 Related programs in Network & Internet - Other
Web2Map
Internet Recherche Manager with offlinereader, fulltextsearch, archiving,...
WinMessenger
Easy to use & convenient WinPopup replacement that works in any Windows version
FlipFlop
FLIPFLOP is a game similar to Othello with additional features.
WebQuiz
WebQuiz is a program to solve quizzes online on the Internet or on a Intranet.
StarStrider screen saver
Turn the StarStrider 3D planetarium into a screen saver!
Fomine WinPopup
Fomine WinPopup is an instant-messaging tool for all versions of the Windows.
3D Word Slider
A full 3D attractive and colorful word puzzle game in three languages.
Winsent Messenger
Instant messenger for use within LAN
Arcade Scramble
Rearrange letters to find words in this arcade style game.
CgiTester
A tool for full testing of CGI scripts without needing an internet connection.