VinylStudio has all the features you need to convert your records and tapes to CD, MP3 and other digital formats.

The powerful sound cleaning filters can help rescue precious, damaged recordings and VinylStudio's intuitive user interface makes digitising your music collection a pleasure rather than a chore. Download a copy and see why using Audacity and Nero for this task is doing it the hard way.
Feature list:

* Record.
* Split tracks.
* Lookup track listings and album art over the Internet.
* Remove clicks, hiss, hum, rumble and even severe scratches.
* Graphic equaliser with normalisation faclility.
* Burn CDs.
* Save tracks in MP3, WMA and many other file formats ready to copy to your MP3 player, iPod or media server.


Keywords: Vinyl, Albums, LPs, Digitize, Record, Records, CDs, MP3, iPod, Burn, Rip, Transfer, Convert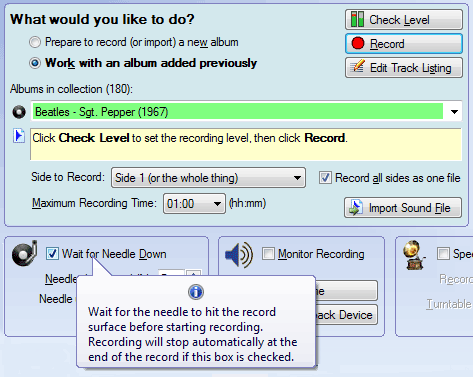 Related programs in Audio & Multimedia - Audio File Recorders
AudioTime Scheduled Audio Recorder Basic
Programmable Audio Recorder and Player (Pre-Scheduled Audio Recorder)
Cresotech TypeRecorder
Convenient and easy to use keystroke sequence recorder and manager
Money Meter
Money Meter is the easy way to track the average employee expense, per second.
Barcode Software
Free barcode tag creator makes unique professional bar code labels and coupons
JukeRec
Get more out of online radio by using an Internet radio recorder.
CopyAudioCD
Convert your CD collection into MP3 one with this budget tool.
MixPad Music Mixer Free
MixPad Free Music Mixing Software allows you to create professional recordings.
Music Catalogue Master
Automatically catalogs CDs, MP3s and vinyl records into a searchable database.
LeafBoy
Scan documents and photos quickly and easily. Store PNG, JPG, or PDF files.
Chat for Websites
Chat utility allow website owners to interact with online customers in real time