Professional Video Surveillance Software With Support For Multiple IP and USB Cameras.

Security Monitor Pro is the perfect solution for complex security problems. It can monitor and record from up to 32 IP cameras simultaneously, create continuous video recordings, and preview multiple cameras in a single window. Each camera has its own individual monitoring and recording settings. When motion is detected, it can send email, record audio and video, and/or sound an audible alarm. In addition, the software maintains a detailed event log.

Each camera has its own scheduled on/off times. The schedule can be the same each day, different for each day of the week, or include one-time events. The cameras can also start monitoring when the application starts up.

Remote monitoring keeps you on top of security, even from distant locations. All video recordings and snapshots can be automatically uploaded to the FTP server of your choice, either on a regular schedule or as soon as the alarm condition is detected. The program can also broadcast (stream) live video and audio from all cameras, which can be viewed from any location using the Internet. Email alerts can include a snapshot showing the cause of the alert.

One minute of video from each camera is always recorded and kept as a buffer, so that recordings started by motion detection can begin before the triggering event. You get a complete record of the incident.

Security Monitor Pro can monitor and record from multiple IP cameras, in addition to any cameras connected directly to the PC, simultaneously. It's the central element of your security and surveillance system.

Keywords: WebCam, WebCam software, video surveillance, surveillance, video security, security, monitoring, intrusion, multiple cameras, camera, ip camera, alarm, email, record video, video recording, DVR, NVR, IP video, alerts, video buffering, broadcast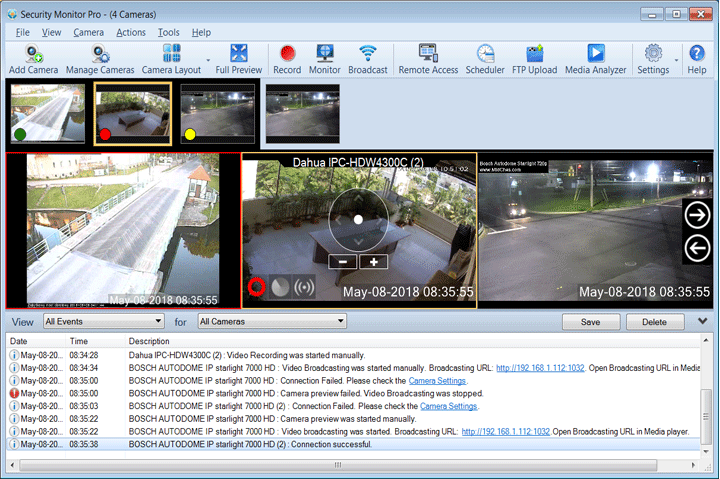 Related programs in Communications - Web/Video Cams
Spytector
Spytector - the most undetectable keylogger on the market! Windows 10 Compatible
BroadCam Streaming Video Server Free
BroadCam Streaming Video Server allows you to stream videos from your Windows PC
EasyCCTV
"Video surveillance system "
SpyPal Spy Software 2013
Secretly logs keystrokes, Facebook, chats, emails and sends logs to your email.
WebCam Monitor
Turn your PC into a video surveillance system; monitor your home/office remotely
PC Spy Monitor 2012
Secretly monitors Facebook, chats, emails, keystrokes and reports to your email.
Magic Camera
Webcam software to add a virtual webcam with 1000+ cool webcam effects
VideoCAD Starter II Kit
CCTV design software package including three programs.
Power Spy
Power Spy logs Facebook, keystrokes, chats, emails, web visits and more.
1AVStreamer
Stream your webcam or desktop over the Internet with one click