Set up a FREE IP camera monitoring system within minutes! IP Camera Viewer is an alternative to the flimsy software that is shipped with most network IP cameras. Keep an eye on your home, office, parking area or anywhere you have a IP camera.

View video from multiple cameras simultaneously. More than 1500 different IP camera models are supported including Axis, Canon, Cisco, D-Link, Foscam, Linksys, Mobotix, Panasonic, Pixord, Sony, Toshiba, Vivotek and many more. Virtually all USB cameras work with IP Camera Viewer.

IP Camera Viewer allows you to individually configure video properties such as the resolution and frame rate for each camera. You can also set image properties such as saturation, brightness, contrast for USB and IP Cameras. Arrange multiple IP cameras in the preview layout you want.

What if your camera is mounted upside-down or its preview is tilted a bit? With IP Camera Viewer you can adjust the orientation of your camera preview. You can also adjust the coverage area with support for PTZ (Pan/Tilt/Zoom) enabled network cameras. IP Camera Viewer lets you digitally zoom on an image, even if your camera doesn't support zoom.

IP Camera Viewer is absolutely FREE and ideal for both personal and business purposes!

Keywords: IP camera viewing software, Network Camera Software, Webcam viewing, Video cam viewing, IP security camera software, IP camera remote viewing software, webcam monitoring software, IP camera system, IP video camera system, IP camera viewer, Cam viewer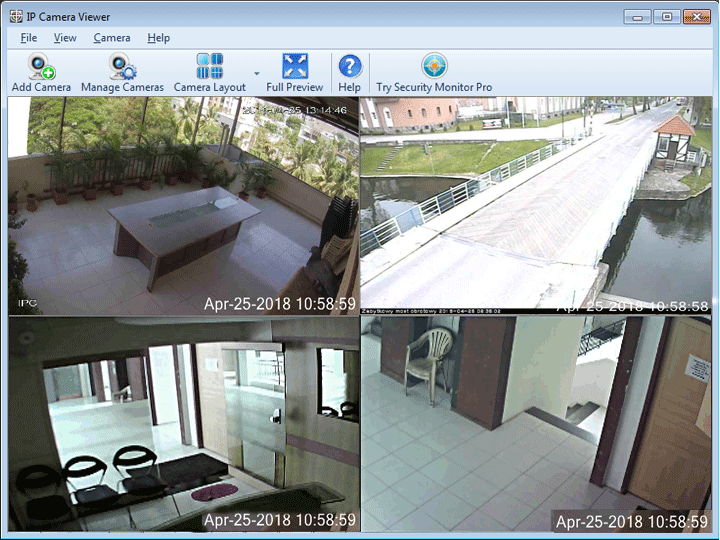 Related programs in Communications - Web/Video Cams
1AVStreamer
Stream your webcam or desktop over the Internet with one click
Security Monitor Pro
Video Surveillance with multiple IP and USB cameras. Detects noise or motion.
CamPermanent
CamPermanent for all WebCams, NetCams and video devices!
CamLAN
With CamLAN you see your WebCam video on all PC's within your LAN or Internet.
CamUniversal
CamUniversal for all WebCams, NetCams and video devices!
ScreenCamera
Virtual Camera, Desktop Recorder and Webcam Splitter
IP Camera Viewer
Free IP camera monitoring software views multiple cameras
C-MOR IP Video Surveillance for VirtualBox/Virtual
Video Surveillance C-MOR is a free NVR Software for Windows, Mac or Linux.
Active WebCam
Broadcast MPEG-4 live video from your Webcam up to 30 frames per second
AbelCam
AbelCam does it all: cam server, video broadcast, motion detection, ftp upload