WinLock Remote Administrator, the security solution for Windows networks. It helps quickly configure remote WinLock and WinLock Professional clients
via network, lock remote workstations, log user activities, and apply security profiles by means of easy-to-use interface.

Being a client-server application, Remote Administrator allows the administrator to control the network installations of WinLock without leaving the computer.

By means of this tool, you can:
manage WinLock settings on-the-fly,
enable or disable each copy of WinLock separately,
pause protection,
send pop-up messages,
shutdown, lock, or reboot the remote computer,
view and record user activities on remote computer,
scan network for active WinLock clients,
capture screenshots of remote client's desktop,
run programs or open files on remote clients,
and more..

With comprehensive encrypted protocol Remote Administrator allows fast and secure communication between multiple machines and can be safely deployed in any environment.

An easy-to-use graphical user interface provides consistent information about remote clients, remote management, and security restrictions. New clients can be added to the list on-the-fly, and be controlled remotely, with extreme ease.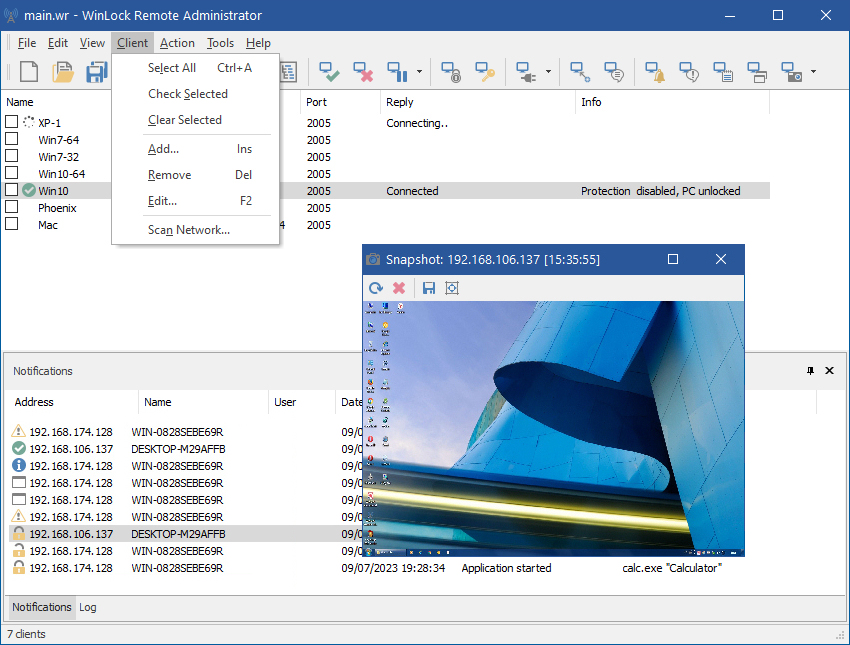 Related programs in Network & Internet - Network Monitoring
Program Selector Pro 98/ME
Provides password protected access control for your Win 95/98/ME computer
TimeSync
TimeSync allows to adjust the clock of your Computer using the Internet.
WinMessenger
Easy to use & convenient WinPopup replacement that works in any Windows version
Triptych
Triptych is a fast paced puzzle game with physics.
Keep It (a) Secret!
Keep your passwords, userids, etc. secure, in just one place.
Server Maintenance Portal
Collect hardware and software assets across the network.
Acc Compact
Utility for Microsoft Access database developers and administrators.
PELock
PELock - exe-protector and advanced license key system
NetListener
Watch for existing PCs in your LAN. And run any action after a Status-Change
Unlock Access MDE Design
Unlock and edit forms/reports in MS Access MDE applications.