Award-winning Windows-based network/system monitoring software designed to monitor websites, network devices, services, event logs, processes, available disk space servers, etc. Notifications are sent via Email(including cell phone/pager!) and/or net send.
Overseer supports monitoring multiple types of resources. Ping allows you to monitor any computer or network device to make sure it is connected to the network. The HTTP/HTTPS resource type allows you to monitor your websites to make sure they're responding to user's requests. The Windows Service resource type allows you to monitor services running on Windows NT/2000/XP/2003/2008/7 servers. The Windows Event Log resource type allows you to monitor event logs from your Windows computers. And the Available Disk Space resource type will regularly poll your servers' hard drives to make sure they don't run out of space. The new Process Monitor allows you to make sure your critical non-service processes are still running.
Overseer can be configured to send notifications after a resource has been down for a certain amount of time, re-send notifications at specific intervals, stop sending once a certain period of time has elapsed and even notify you once a resource comes back on-line.
Letting Overseer watch your systems 24 hours a day will give you peace of mind that your systems are always available and can potentially save your company thousands of dollars in downtime. Download the fully-functional trial today.


Keywords: Monitoring, Network, System, availability, Service, HTTP, ping, website, process, notification, notify, pager, email, cell phone, event log, disk space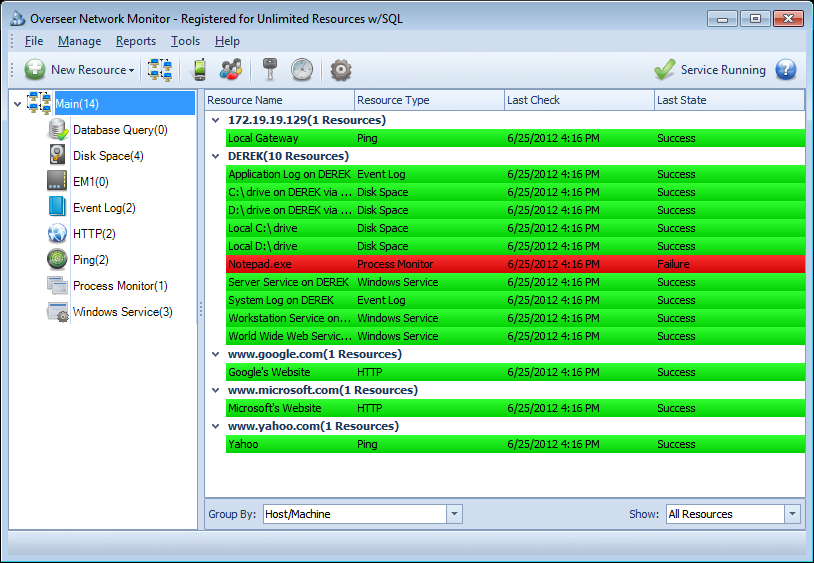 Related programs in Network & Internet - Network Monitoring
WDumpEvt
Windows NT/2000 eventlog management tool: dump, save, view the local/remote log
WinMessenger
Easy to use & convenient WinPopup replacement that works in any Windows version
CacheBoost Server Edition
Boost performance with system and cache management of Windows.
Zoner GIF Animator
Superb GIF animator that can create banners
CacheBoost Professional Edition
Boost system performance and cache-management of Windows XP, NT, 2000.
Server Maintenance Portal
Collect hardware and software assets across the network.
Update Pack
Program substitutes the default Windows shutdown and startup screens!
NetListener
Watch for existing PCs in your LAN. And run any action after a Status-Change
Mihov DiskFree
Show free disk space, info updated every second.
sysCOMP
Remotely compare any two systems on your network.