Quiz-Buddy is an award-winning Windows program that helps students in learning and test-preparation activities.

Quiz-Buddy is designed to improve student results in SAT, PSAT, GRE, GMAT and other standardized tests. It can also be used for vocabulary-building, learning foreign languages and can be integrated into a curriculum that requires extensive memorization. Another advantage of Quiz-Buddy is that it can be used both in classroom settings and at home.

Learning is accomplished through answering a number of automatically-generated multiple-choice questions.

Adaptive Smart Pick, sequential and random question selection modes make the learning process efficient and fun.

Teachers and students can create new study modules with the easy-to-use built-in editor.

Quiz-Buddy interface is intuitive, visually attractive and highly customizable. Extensive context-sensitive help guides new users through all the main features of the program. Free video tutorials are available on our website.

To further enrich learning experience, sounds and text notes can be added to each question-answer pair.

Study modules can be saved in Palm OS format with one click of the mouse. A Palm OS version is available on our website.

Free trial version and unconditional money-back guarantee offered.

- Unlimited number of quizzes
- Over 110 sample study modules (SAT, Spanish, French, Italian, Portuguese, Geography, Math, Spelling) already included
- Predefined wrong answers
- Multiple-choice, true/false, type-in and matching quizzes
- Printable Tests
- Sounds and pictures for each question/answer pair
- Notes for each question/answer pair
- Slideshow mode
- Font selection for both questions and answers
- Exports quizzes for use with Quiz-Buddy for Palm OS
- Skins
- Quiz Viewer
- Quiz Editor
- New Quiz creation
- Imports quizzes from text files
- Flashcard printing
- Free upgrades for one year
- Free expert online support
- Free trials

Keywords: flashcards, testing, test preparation, language, test, quiz, exam, drill, quiz-buddy, vocabulary, SAT, GRE, ACT, PSAT, dates, Memorize, Palm, learn, memory, Spanish, state capitals, multiple-choice, French, Italian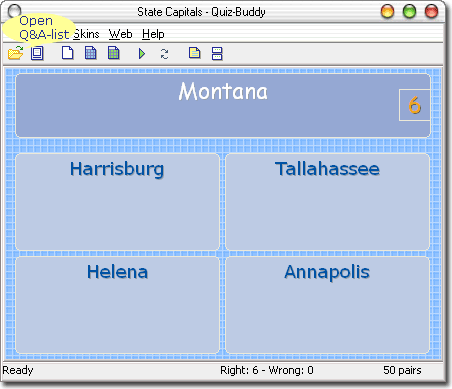 Related programs in Education - Teaching & Training Tools
FlipFlop
FLIPFLOP is a game similar to Othello with additional features.
WebQuiz
WebQuiz is a program to solve quizzes online on the Internet or on a Intranet.
3D Word Slider
A full 3D attractive and colorful word puzzle game in three languages.
Arcade Scramble
Rearrange letters to find words in this arcade style game.
Test Prep
Test yourself with a matching test until you learn all of the answers
Test Creator
Use the Test Creator to design and print tests or fully automate your classroom.
CgiTester
A tool for full testing of CGI scripts without needing an internet connection.
Emsa Disk Check
Disk checking and benchmarking tool - scans CD/DVD/HDD etc.
Emsa FlexInfo Pro
System Information & Diagnostics Utility for Windows. Freeware.
Translator Internet
Translator Internet translates for you all web pages and web sites.