Maze Book 3 is another set of computer generated mazes for kids. In this set, kids guide animal characters through mazes in Animal Town to find friends, neighbors, teachers, toys, and lots of other characters and objects. With three levels of difficulty, kids can find the level of challenge that is right for them. Unlike paper and pencil mazes, Maze Book 3 is interactive -- kids guide characters through a variety of bright, colorful mazes finding objects. Not only will kids have lots of fun with these mazes, but they will gain hand-eye coordination, visual tracking, and problem solving skills. Download a free trial version of Animal Town Maze Book that you can use indefinitely! Published by Dataware.

Keywords: Maze, Book, Dataware, kids, education, children, preschool, mazes, game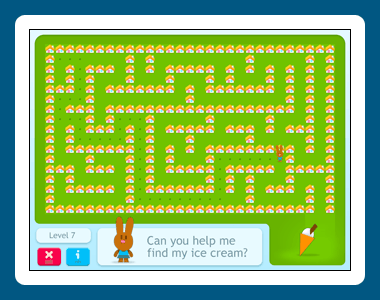 Related programs in Games & Entertainment - Kids
Spell-Mell
Spelling, vocabulary & quiz game for whole family.
Whirlwords
Challenging word chain puzzle includes 100+ levels, editor, online help.
NoteCard 2
Learn the musical notes. Treble and/or bass. Builds fluency quickly.
Sean's Magic Slate
Freeware coloring toy for ages 3-7. Easy, fun, great for imaginative play.
United States Geography Tutor
Master U.S. geography! Includes study mode and two test modes.
L-Nix
Interactive UNIX tutorial program that teaches concepts of f the UNIX OS.
Twisted Tails
Old-time fairy tales with a hilarious new twist! Rapunzel, Cinderella, 8 more.
I Live at Santa's House!
Lets kids explore fantasy of being one of Santa's elves.
Note Attack
Learn to read sheet music with this free MIDI educational video game
Hexip
Hexagonal battleship puzzles. Uncover the enemy fleet hiding in deep sea.